NEW Volunteer roles for ShAFF 2020
An open call for volunteers for the 2020 festival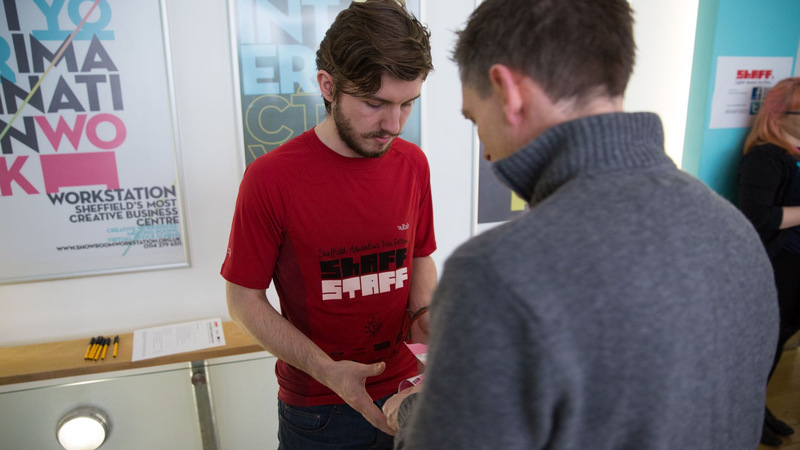 About
ShAFF needs you!
As with most festivals, ShAFF relies heavily on volunteers to operate smoothly. It's a fantastic way to gain experience of a festival behind the scenes and on the front line. There are some great perks, and we're a really friendly team. If you're interested click the link on the right and fill out an application form. Thanks a million!
Pre Festival
Events programme social media officer (mostly in 6 week run-up to ShAFF)
Take info from ShAFF website to create FB event for each ShAFF event (not screenings) - about 15-20 events
Share event with sponsor/delivery co-hosts
Post at least once within each of the events to encourage people to book tickets and register their interest
Support Anna and Jane to share events to relevant groups
Answer people's questions in the events feeds
You need to be: comfortable with social media and able to check in with the events every other day, up to the end of the festival - and available for the whole weekend
Sustainability evaluation officer
Review mission statement and identify points we can measure - create simple SMART targets for each
Create structure for reporting on environmental and activation outputs of festival - a bit of desktop research on how others have done this e.g. Edinburgh Festival
Produce key points for publicity
You need to be: comfortable boiling the wonderful chaos of our events programme into tangible soundbites and real achievements, available for the whole weekend
Sustainability communications and visualisation officer
Work with the venue dressing team in advance of the festival to ensure that core messages like the Reusable Cup Campaign, recycling and activism events signposting are well-communicated to the ShAFF audience
Trouble-shoot over the course of the weekend
Engage with exhibiting brands about sustainability on stands in the run up to the festival, via the ShAFF Sponsor Liaison (Anna).
You need to be: comfortable communicating by email and keeping close tabs on email comms, diplomatic and able to move around the whole festival over the whole weekend
Friday 20th March
Setup on Friday - the biggest job - putting up banners, helping exhibitors and putting up signage
Lanyards = prepare lanyards for all volunteers, visiting filmmakers, vips and industry event guests
From 1pm - help with venue dressing
Festival Weekend
Sitting in on each film session - we need one volunteer in every single film session, watching the session, and reporting instantly if there are any technical issues.
Boom Beam voting. After each and every film session a volunteer will need to hand out tickets to the viewers as they leave the cinema so that they can score the films they have just watched. This can be the same volunteer as the one watching the films. They will be met at the end of the session by somebody from Boom Beam with the tickets. Unused tickets will then need returning to the Boom Beam guys in the bar.
Rebel Raids host (three events over the course of the weekend)
Stay in contact with Raids activity leaders, remind them where to be and when
Meet them there, welcome participants, set them off, trouble shoot if need be
Ideally accompany the activity (it will be a short sharp local environmental activity), to ensure participants get the most out of it
You need to be: enthusiastic, welcoming, well-organised
Support team for Made by Scavenger team running the Preloved Kit Sale, Bisewcle and Scavenger stand
The bisewcle crew will be helping the ShAFF community create a giant cushion out of recycled climbing rope, for ShAFF bottoms to use for years to come. They're also running their second hand kit sale outside the front of the Showroom, so helping on this will help you grab a bargain too. Here's the help they need:
Saturday and Sunday 8-10am & 4-5pm - Set up and take down the Preloved Kit Sale - 2 volunteers
Saturday and Sunday 10-4pm - Support the MbS staff member on the Preloved Kit Sale - 2 volunteers
Sunday 9-2 - Set up (1hr) then support the MbS staff member running the bisewcle - 2 volunteers (one to help people on/off the bike, the other to strip rope)
Support crew for Trail Advantage MTB Skills session
A great volunteer role if you like being active and working with kids. Adam Simmonite from Trail Advantage is taking a small group of kids through their paces, and needs an assistant who can help encourage the little shredders and make sure they don't crash through the barriers!
Saturday 11.30 - 1.15 (event starts at 12 at pin ball park on brown street).