Event
ShAFF Online - What's In Our Water - Lindsay Cole talks to Suzie Wheway
ShAFF Online – Wild Swimming, what's in our rivers and seas. A look at the state of our waterway - Lindsay Cole talks to Suzie Wheway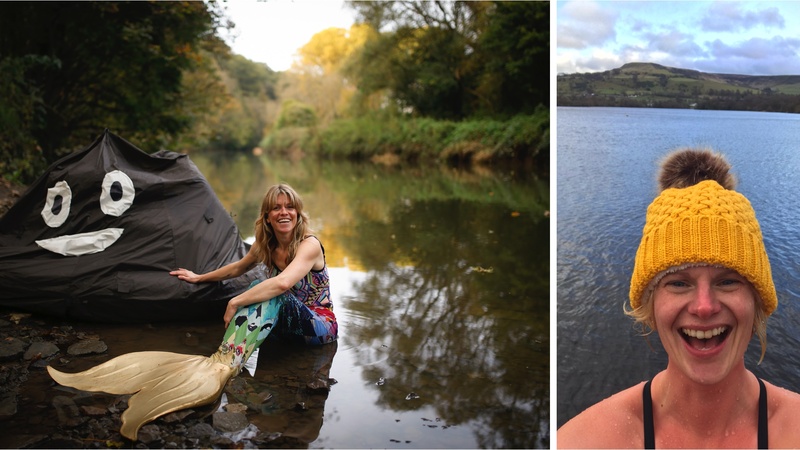 About
Starts
7 Feb '22 | 8:00pm
ShAFF Wild Swimming, What's in our rivers and seas. A look at the state of our waterways
The state of our waterways has been a hot topic in the media recently. From sewage spills by water companies to agricultural run-offs, there are many problems wild swimmers can face when trying to find a clean place to swim. Lindsay Cole will be talking to Suzie Wheway about water quality in UK waters. What the situation is, just how bad it is or isn't, what you need to think about when you're choosing a swim spot and what you can do to help support better river health.
Lindsey Cole is a children's author, adventurer and mermaid . She mermaided the length of the River Thames in 2018 to highlight plastic pollution and in 2021 mermaided the Bristol Avon, towing a giant poo sculpture and toilet roll, to investigate how polluted our rivers are (she got very sick!). Lindsey has made a film, The Mermaid, The Otter and The Big Poo to educate children and families on river health and to inspire them to look after their own local river.
Suzie is an outdoor swim coach and guide based in the Peak District, UK. Prior to becoming a swim coach Suzie worked in the environment sector for many years and has always had a passion for water, how it works, sculpts our landscapes and keeps humanity alive. She is a volunteer with her local Rivers Trust and campaigns for better water quality in her role as Outdoor Swimming Ambassador for Swim England.
------------------------------------------
As with all the ShAFF Online talks, there's no cost to register and enter but we'll ask you to make a donation. These talks have replaced our in-person events, so we would very much appreciate it if you'd consider donating the price of a pint or two to help us keep arranging events like these.
------------------------------------------
The talk will be delivered using Zoom. We recommend that you download the app and install it ready. You will be able to join the meeting via a link in your confirmation email.
Donations will be shared between the speakers and ShAFF. Thanks in advance.