Film
The UK In 100 Seconds
How much space is there for nature in the UK? How do we use the land? Look at it from the air and you find some surprising answers.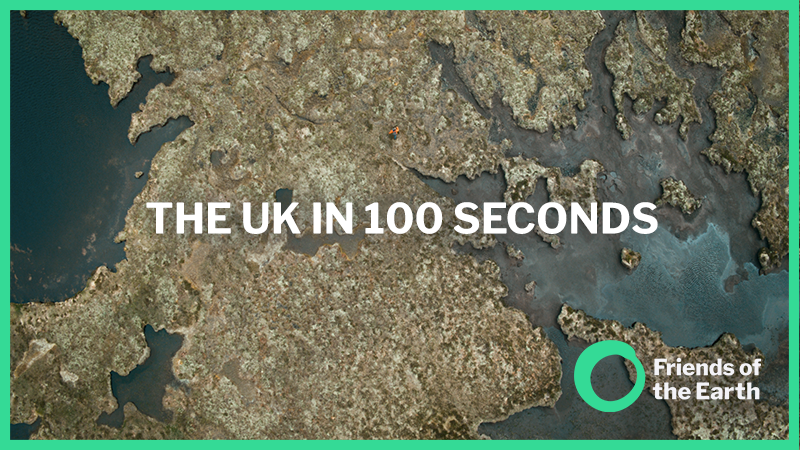 About
Director
Dan Raven-Ellison
Featuring
Benjamin Zephania
Sponsor
Friends of the Earth
Our Judges say:
Love this idea and delivery was excellent, personally fascinated by the facts and figures bought up.

Ed Birch Director of Salt-Street productions
A short that punches well about its weight. I guarantee you'll be thinking about everything you learn from this film for more than 100 seconds.

Anna Paxton
This is really a project to be aware of! Give it a minute, no two!

Claire Carter Writer, Film Officer for Kendal Mountain Festival, 'Creative Consultant'.
Friends of the Earth is campaigning to make more space for nature everywhere for the benefit of people and wildlife. This means bringing nature to life in towns, cities and where we live, learn and work, not just consigning it to special reserves. 100 Seconds asks some searching questions. How much space is there for nature in the UK? How do we use the land? Look at it from the air and you find some surprising answers. Each second of the film equates to 1% of what the country looks like from the air. One of the most shocking things, is going through literally hundreds of miles of crops, you realise that half of all the cereal crops you see in the countryside are fed to livestock. What else could we do with that land? More detail on this links The film premiered on 24th September in London https://friendsoftheearth.uk/nature/uk-100-seconds-short-film-asks-can-we-make-space-nature https://friendsoftheearth.uk/nature/space-nature-uk-100-seconds https://www.nationalgeographic.co.uk/environment/2018/09/discover-britain-100-seconds https://twitter.com/DanRavenEllison