Article
Women in Adventure Film Competition 2019
Annual film competition supported by ShAFF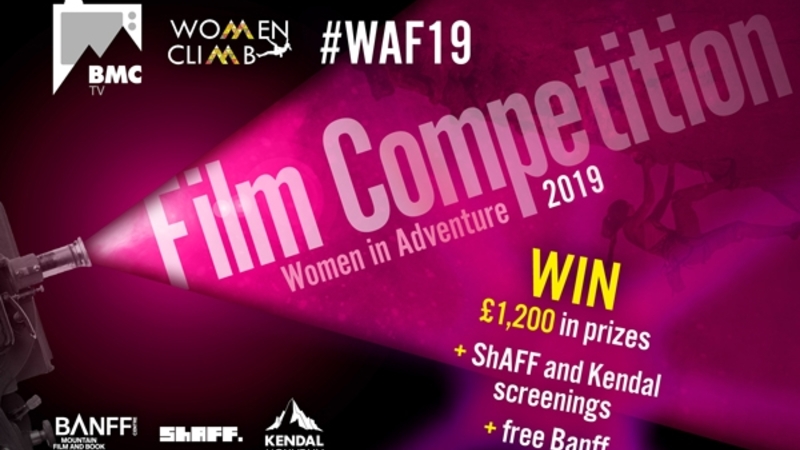 About
Dust off your cameras, get your gear together and prepare to unleash your inner adventuress, as the BMC TV Women in Adventure Film Competition is back! #WAF19
Girl power is at an all time high amongst outdoor women right now, with the BMC gaining its first ever female president earlier this summer. We want to see you channeling this psyche into your adventures and capturing them on film, to inspire other women to get active and adventurous too!
What we're looking for:
We're after films that are up to 10 minutes long (though they can be much shorter if you choose!) about the adventures of an outdoor-loving woman or women.
You don't have to be a pro filmmaker or an elite athlete to enter. We want to see films featuring females of all shapes, sizes, ages and abilities.
Do something different! Make your film stand out by putting your own spin on the competition. Your film doesn't have to be a documentary and could be completely fictional. Get creative and make the competition what you want it to be.
The films that made it to the top spots in 2018, according to Women in Adventure judge and WomenClimb founder and editor in chief Emily Pitts, "got there through different combinations of creativity, interesting camerawork, good sound and, of course, a story well told".
Check out Bypass, a fictional film by Jo Robbings entered for the 2018 competition:
Why you should enter
The aim of this competition is to increase the number of outdoorsy women on the big screen, but we need your films to make that happen.
Emily Pitts says "We know that women are doing very adventurous things in the UK and round the world, but this isn't always reflected on screen." Help us change this!
By entering the competition, you'll not only be in with a chance of winning cash prizes and the opportunity to showcase your film at some epic outdoor film festivals, but you'll also spur on fellow females to get outside and maybe try something new. Watching other women taking part in activities they might not see every day could inspire them to get out and give it a shot themselves.
The prizes
First place: £600 + ShAFF (Sheffield Adventure Film Festival) and Kendal Mountain Festival screenings + free entry into the Banff Mountain Film Competition.
Second place: £300
Most watched: £150
Best urban adventure: £150
Inspired by the winner of the Women in Adventure Film Competition 2018, Night High, we're launching the urban adventure category for the first time this year.
Night High, a film by Dora Damian, encapsulates the dreamy flow state athlete Sarah Rixham finds whilst floating in untouched space on a one inch wide slackline. She uses the cover of night to explore unique urban gaps in the pursuit of this dream-like state induced by highlining.
This film sparked the idea that not all adventures take place in the mountains, so we want to encourage you to get out and explore what's right outside on your doorstep (or inside at your local climbing wall!).
+ the judge's special mention award
What to do
So now you're psyched and ready to get going, here's how to enter:
1) Get filming
Remember that your film should be 10 minutes tops and feature a woman as the main protagonist. Check out these tips from this year's judges and Paul Diffley's video guide to adventure filmmaking to help you get started.
2) Download the Entry Form & Submission Guidelines and the Judging Guidelines
3) Submit your film by midnight (GMT) on Monday 14 January 2019
Send a Dropbox link (or similar) to emma@thebmc.co.uk using the subject line "Women in Adventure Film Competition", accompanied by the entry form. 
Good luck!
Need inspiration?
WATCH: the 2018 winners
WATCH: the 2017 winners
WATCH: the 2016 winners
WATCH: the 2015 winners