Event
BMC Sofa Session - Mend Our Mountains
Find our some more about the BMCs successful 2016 Mend Our Mountains campaign with BMC Hill Walking officer Carey Davies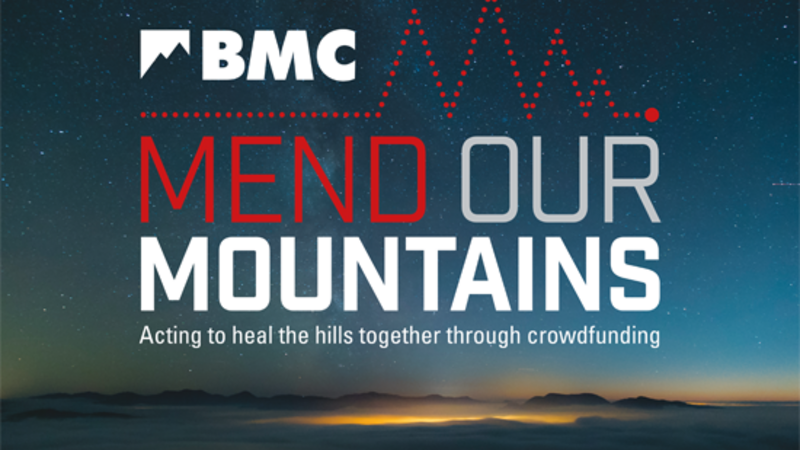 About
Starts
19 Mar '17 | 12:00pm
Ends
19 Mar '17 | 12:45pm
Location
Tags
The BMC is inviting the passionate outdoor people of Sheffield (and beyond) to glimpse our plans and give us your ideas for a 'sequel' to Mend Our Mountains, our crowdfunding drive that raised more than £100,000 for mountain paths last year.
It raised almost £104,000 to help repair damaged paths on some of Britain's most iconic mountains and upland landscapes; made BBC News headlines; and was voted 'Campaign of the Year'.
Mend Our Mountains, our groundbreaking crowdfunding drive that ran in spring last year, has already made a tangible difference to the health of some of our most treasured adventurous landscapes. Now the BMC is working on a sequel that we intend to be bigger and better – and we would like to hear your thoughts, ideas and feedback.
Come along to a free 'sofa session' at the Sheffield Adventure Film Festival (SHAFF) this Sunday at 12pm with the BMC's hill walking officer Carey Davies to give us your views. We will give an update on the progress of projects from the last campaign, provide a glimpse of our plans for the next one, and then open the session for a free discussion. Community spirit
The first Mend Our Mountains campaign was a real 'community effort'.
The product of an unprecedented collaboration between the BMC and its charity, the BMC Access and Conservation Trust, and eight national parks across England and Wales, it had the backing of well-known figures like Chris Bonington and Julia Bradbury, and almost 40 other outdoor personalities, companies, local businesses, accommodation providers, guides and others who donated crowdfunding rewards to use across the campaign.
But we are keen to find out how we can do more to harness the attention and energy of people who use the outdoors to help make the next campaign a success – and that means making sure it addresses their concerns.
How often do you consider the health and integrity of the environment when you go walking and climbing? What are the sorts of things you care about?
We also appreciate that the generosity of individuals is increasingly stretched by growing demands from organisations and charities for private donations. Did you donate to the last campaign? If not, what messages would 'cut through' to persuade you to part with cash or time for the next one?
Please come carrying your thoughts, suggestions and ideas. All are welcome.