Event
Grit & Steel
Sheffield's first ever piste map for cyclists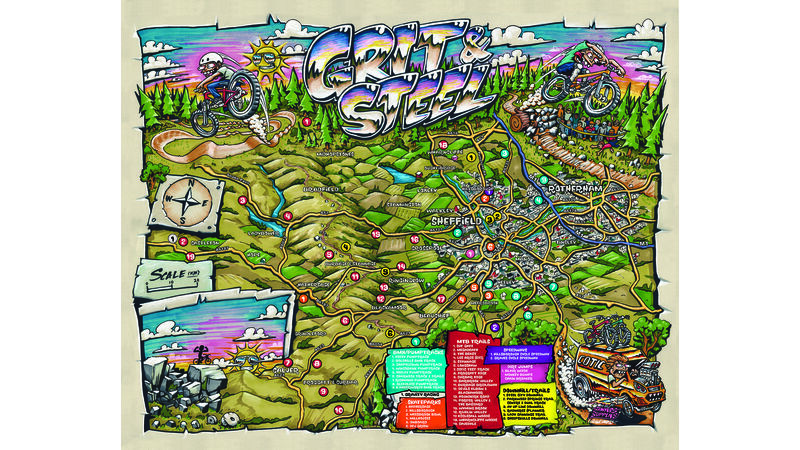 Located on the Mezzanine level of the Workstation.
The Map:
Grit & Steel is Sheffield's first ever piste-map for cyclists, featuring over 45 spots to get sideways and rad on a bicycle. The Outdoor City just became infinitely more accessible - without losing any of its unrivaled spirit or irreverence. The map produced by Cotic, is a call to arms for all riders from all locations to get exploring all corners of our wonderful home. There's magic hidden in the hills, now you know where to look.
The Artist:
Nick Sawyers has brought a drop of Californian sunshine, from his home 8,500 miles away in Long Beach, to the Steel City. You can find Nick riding the world famous Sheep Hills on his BMX, getting his monster truck axle-deep in the sand dunes of Baja, or creating prodigious murals all over LA. With his Bachelors from Alabama in Industrial Design and experience as an illustrator, Sawyers uses his diverse skills for clients such as S&M BMX, Alice + Olivia and Bud Lite.
"Get loose or get lost" at www.sawyerssupplies.com
The Photographers:
Richard Baybutt - @baybutt
Chris Davies - @cmjdavies
Niall Flinn - @niallflinn
Dom Mason - @masoncycles
Sebastian Ott - @traumund
Duncan Philpott - @duncanphilpott
James Vincent - @jamesvincent
The Company:
Established in 2003, Cotic is Sheffield's best bike company; producing steel-framed, high-end, mountain & road bikes. Cotic bicycles have been ridden to the shops, raced in World Championships and summited both mountains and podiums. We are driven by passion, enthusiasm, experience and the simple love of riding a bicycle.
www.cotic.co.uk