Film
Alone through Iran - 1144 miles of trust
A lone woman challanging her own prejudices again muslims.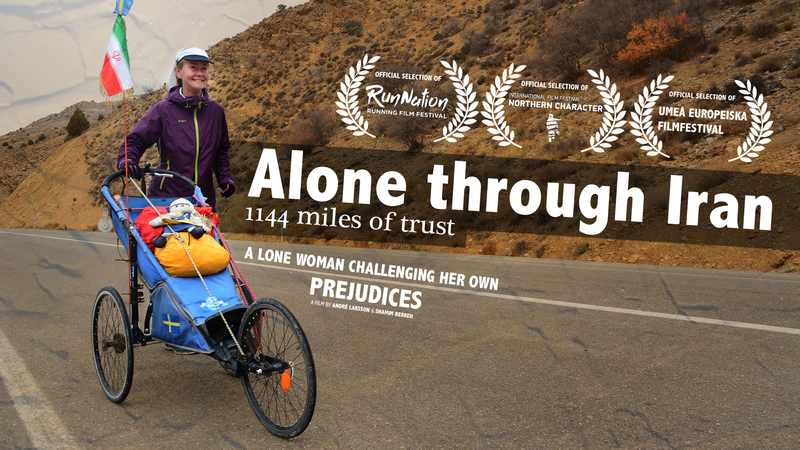 About
Director
André Larsson, Shamim Berkeh
Producer
André Larsson, Shamim Berkeh
Featuring
Kristina Paltén
Country / Nationality
Sweden & Iran
Our Judges say:
A fascinating film that challenges preconceptions and gives glimpses into a country and culture I know very little about.

Anna Paxton
The film follows the 45-year old Swedish woman, Kristina Paltén, before, during and after her lone run across Iran. Kristina ran 1144 miles during 58 days with the purpose to challenge her own prejudices against a country, a culture and people she had never previously been in contact with and knew little about. She wanted to explore what a muslim country meant to a lone woman running across an entire country. Prior to her trip she had been told she would be raped, murdered and kidnapped by her friends and family. Kristina chose to run in Iran as a way to challenge her own prejudices against the country. Prior to her adventure, all she knew about Iran was what she learned from Western media coverage. She planned a running route but other then that nothing was planned or organized. She was to be completely vulnerable and dependent on the people she met along her way for finding somewhere to sleep and food. "Today I feel like 'Muslim' has become synonymous with 'terrorist' or 'fundamentalist'. There are around 1.5 billion Muslims around the world, and I'm guessing most of them are really nice. With this run I want to question my own prejudices, learn more about a culture I know little about and meet a lot of people. I hope my run will contribute to more openness, trust and tolerance both within myself but also in the world." During her run Kristina confronts her internal conflict between her very human need and desire to trust people she meets and her inflicted fear for the unknown. Much of the film is based on Kristina's own footage as our cameraman was with her only 8 out of a total 58 days in order for Kristina to be completely alone.