Film
47 COPA | Forty Seven Summits
A film following ultra runner Huw Jack Brassington, as he attempts to run the notorious Paddy Buckley round.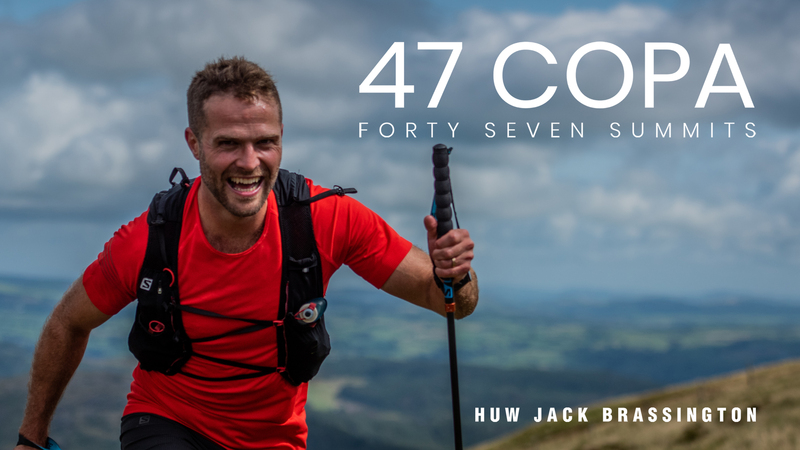 About
Featuring
Huw Jack Brassington
Country / Nationality
United Kingdom
Our Judges say:
Huw Jack Brassington running the Paddy Buckley with a mega support crew and in compromising conditions.

Jimmy Hyland
Ultra-running over 47 Welsh mounters is a challenge few have managed, and this film shows how magnificently photogenic runner Huw Jack Bressington attempts it as the storms descend. The film reveals the full support network an adventure like this requires. Fabulous mountain scenery brilliantly portrayed. Welsh language throughout, and all the better for it. "Run, you hairy potato!"

Paul Hodgson Music Judge
Another smasher of a running psych film from Huw Brassington and Huw Erddyn!

Claire Carter Writer, Film Officer for Kendal Mountain Festival, 'Creative Consultant'.
So enjoyed listening to the Welsh language.

Simon Taylor
47 COPA | Forty Seven Summits is an S4C Original production by Cwmni Da who are based at the edge of Snowdonia. When you set out to film something as formidable as the Paddy Buckley Round, you know it's going to be tough. You're covering a route that's over a 100km over 47 mountains, all within 24 hours. Thankfully, We love doing stuff like this. The team behind the film live, work and play in Snowdonia so to have an opportunity to make a film here was a dream come true. Looking back, it was one of the most challenging shoots that we've ever been involved with, not least because we were filming in the eye of a horrendous storm. Filming the challenge was a massive logistical operation and everyone needed to know exactly when and where they needed to be. We recce'd a lot of the locations before filming, a great deal of time was spent looking at maps and figuring out what would be the best locations visually and how to use our team in the best possible way to get the most out of them. The original plan was to film on Friday and Saturday, with Saturday and Sunday as a backup plan. But as the dates got closer we realised a massive storm was brewing and heading towards Snowdonia. All the planning we'd done had to be scrapped and we had to bring it all forward a day early so that we wouldn't be filming in the worst of it, or that's what we thought anyway! The storm fully hit around 4am on the Friday, 16 hours into the challenge, and you just knew that nobody else was anywhere near those mountains! The camera crew on the summits said that they'd never been filming in anything like it before. There was 60mph wind and the rain was horrendous. We were in the eye of the storm for the most treacherous part of the challenge, the Glyderau range. Huw had the opportunity to stop at any point but he wanted to carry on. The mountain leaders could have easily decided that it was too dangerous for the crew to go up some of the mountains, but they didn't. In a weird way, everyone really enjoyed the experience. We were filming someone that was on the very edge of his limit! Everyone was freezing and soaking wet but they were all still smiling. We couldn't really complain about what we were going through, as It was nothing compared to what Huw was going through. Everybody worked together and pulled it out of the bag. Looking back it is without doubt the most challenging shoot that I've ever done because of the conditions and the fact we were filming it all in a 24-hour period. One of the things that I'll always remember is lying in my van trying to get an hour's sleep in the middle of the storm, I had no idea where Huw was and whether he and the crew were safe. He was at the most dangerous part of the challenge and I had no signal on my phone, so couldn't follow him on the tracker. I had no idea where he was or if he was still moving. I ended up getting up and driving a few miles down the road to get some signal and news came through that he was okay. I have a huge amount of respect for Huw. It would've been an extremely hard challenge for him anyway but the weather made it so much harder. He is the most determined human being that I've ever met, he can suffer and endure pain that most people would consider torturous. His determination mixed in with his unique sense of humour, and his glass half full attitude were the perfect ingredients for an amazing story. Hopefully we've succeeded in portraying that story.