Film
The Corris Round
Lockdown inspires 12 year old Tom to create and run his own Ultra Trail in Snowdonia.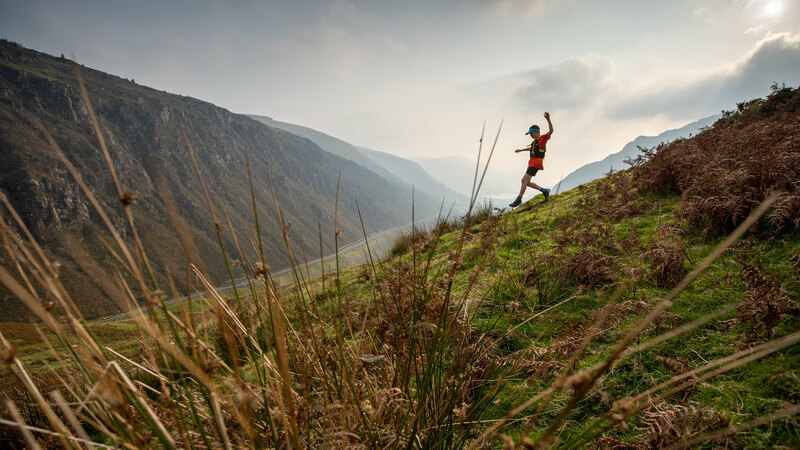 About
Country / Nationality
Wales
Our Judges say:
A 12 year old boy and his dad go trail running. Lovely family adventure film.

Paul Hodgson Music Judge
Initially during lockdown, 12 year old Tom was content with local walks, some climbing and watching videos on YouTube. As the days he passed and it was clear that lockdown was not going to end quickly he decided he needed a project - his own version of The Bob Graham Round that he could do from his front door. He got out maps and guidebooks, roped his Dad into exploring with him and together they came up with the Corris Round. Along the way he learned about a famous neighbour - John Disley - who used to live on his street and went on to found The London Marathon, win an Olympic Medal and collapse on the Welsh 3000 challenge due to lack of food. Not a mistake that Tom will repeat thanks to help from his Mum & sister along the way.
Sustainability Notes
It is a tragic truth that our love for travel is fueling the demise of the places that we love so much. I have visited the Alps every year for 20 years and I have watched the glaciers receding. Each winter in Scotland I have seen the change in the snow line and the increased ferocity of the storms that pass through. Each summer I have seen the increased flooding caused by summer storms in the UK and worried about the increased rockfall in the Alpine mountains. I have spent several years worrying about the impact "we" are having but I haven't actually done much about it.
It is too easy to think that my actions don't count. I am too small to make a difference.
The Coronavirus Pandemic has caused me to stop and look at my lifestyle, to examine what is important and to ask myself what I believe in. It has given me time to think, to hit a re-set button and time to plan to make some changes.
Often the biggest impact of our adventures will be in how we get there and back, and I am working to always reduce the emissions of transport.
Flying is the obvious target and so I've stopped long haul international trips. Take Nepal as an example, where my flights alone would emit about seven times more greenhouse gases than the average Nepali does in a whole year. If I choose to take public transport to the Alps instead, I could have gone there and back twenty-three times for the equivalent emissions. With such amazing mountain adventures within driving or train distances in the UK and Europe, it's really hard to justify the flights every year.
You can also offset your emissions with organisations like Gold Standard for as little as £8 per tonne, but we need to reduce our energy consumption in the first place.
So what am I doing about it? Here is a summary of my changes for 2021:
I am no longer going to be taking long haul flights.
From 2021 I am reducing the number of overseas trips that I run and will only go to places that I can get to via train or car.
I have replaced my diesel van with a used hybrid car to reduce my carbon footprint for local journeys.
My electricity is provided by "green energy" using renewables.
I aim to generate enough income to provide for the needs of my family whilst still meeting the needs of the planet, adopting Kate Raworths Doughnut model for economic sustainability.
I am buying "less stuff".
I will repair kit rather than replacing it where I can.
"The Corris Round" reminds us that we can all have adventures on our own back door step. For Huw and Tom this is literally from their back door as their run starts and finishes from home. The film evokes the simple pleasure of running, exploring new places close to home and getting to know the people that make up the fabric of where we live. We don't need to fly to far flung places to have adventures and to learn about the people that live there - we all have lots to discover close to home. I shot the film as a single person crew and travelled primarily on foot and bicycle. I had to drive to Corris from my home 70 miles away but this was done in a hybrid car that is charged using green electricity.
The film is supported by Montane. In October 2019 Montane became a member of the Fair Wear Foundation (FWF). The FWF is an independent, non-profit organisation that works with brands and manufacturers to improve labour conditions and worker's rights in the global textile and apparel manufacturing industry.
We are proud to have longstanding relationships with some of the world's leading technical apparel and equipment factories and our partnership with the FWF gives us the tools for monitoring our production sites closely and implementing a continuous improvement programme through the FWF Code of Labour Practices:
• Employment is freely chosen
• There is no discrimination in employment
• No exploitation of child labour
• Freedom of association and the right to collective bargaining
• Payment of a living wage
• No excessive working hours
• Safe and healthy working conditions
• Legally-binding employment relationship