Event
BMC Montane Women in Adventure Panel
BMC Montane Women in Adventure Panel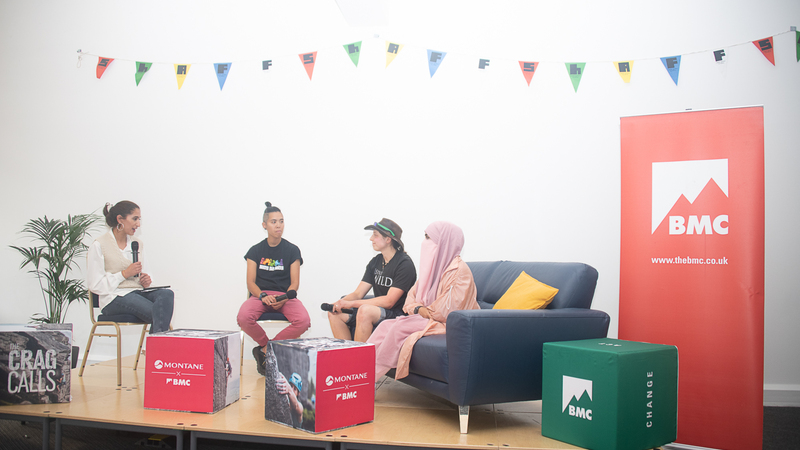 About
Starts
19 Mar '22 | 4:00pm
This panel session is free to attend. 
Following the Women in Adventure screening earlier on in the day, all are welcome to listen to our special panel of Women in Adventure guests speakers discuss the current evolution of diversity and gender on screen and off screen in the outdoor industry. 
Host Emily Davis will be speaking to panel guests outdoor diversity dynamo Aneela McKenna, adventure filmmaker Ellie Green, United We Climb Ambassador Marie Uri and 'Bouldering Dabrat' and Beta Magazine co-founder Annie Martin.  
There will be the opportunity for networking and nibbles directly following the panel talk.  
Meet the Speakers 
Marie Uri 
Guadeloupean-born trad climber Marie is a core team member of United We Climb, an organisation which works in partnership with Climbing and Outdoors companies and organisations to develop new experiences and opportunities designed specifically for those who are currently underrepresented and under-served in the climbing community. Marie is passionate about female empowerment diversity representation.
Aneela McKenna
Aneela has over 20 years+ experience in diversity, inclusion and wellbeing. She provides a consultancy service - Mòr Diversity - advising and supporting organisations on strategy and programmes for diversity, inclusion and wellbeing and combines this with her roles at Go-Where Scotland and Ridemòr where she leads on programmes to widen participation in mountain biking and cycling. In her spare time, she co-chairs British Cycling's Diversity and Inclusion Advisory Group.
Ellie Green
Director and co-owner of Summit Fever Media, an award winning adventure and documentary film production agency, Montane Ambassador Ellie specialises in producing narrative-lead adventure and expedition films, brand content and documentaries, whilst working in challenging and remote locations around the world.
Annie Martin
Annie is a film maker and co-founder of the Bouldering DabRats platform and Beta Magazine. Her work aims to normalise the presence of women and under-represented groups in the media by being seen and heard.
Emily Davis
Emily is the Production Co-ordinator for Kendal Mountain Festival and actively researches within the Outdoors / Adventure industry to ensure that speakers voices are inclusive and representative of what is happening in the world of adventure.