Film
Disturban
Fifteen years ago, some urban boulder lines in Montreal were opened by Antoine and his crew, but many were never sent.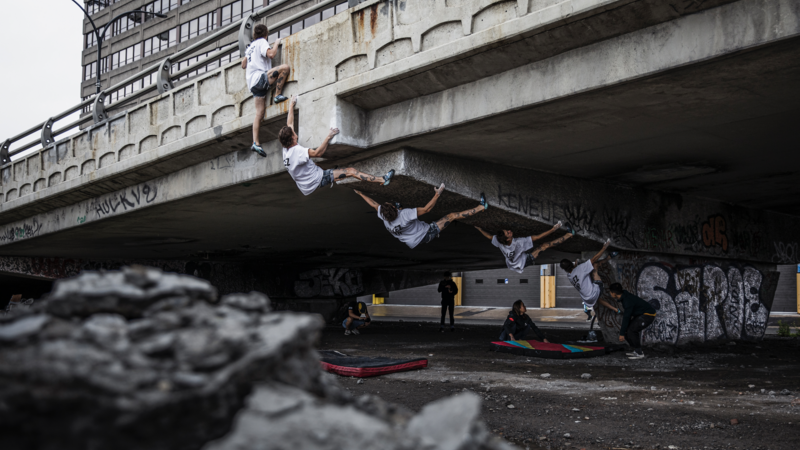 About
Sponsor
ALLEZ UP, Yeti, Vidéotron
Country / Nationality
Canada
"Urban bouldering is basically climbing on urban structures," explains Alexa, director. "It's climbing on artificial structures; buildings, a bridge or anything artificial. It's not legal… but it's not illegal." JACKALOPE.TV, Allez Up and Yeti are happy to introduce DISTURBAN, a video highlighting the beautiful world of climbing, where we present the main actors and disciplines of the climbing scene in Quebec. This episode shed light on a little-known discipline, Urban bouldering. Fifteen years after the release of the film Disturban, Allez Up general manager Antoine Séguin is back with a new version that retraces some of the urban spots that had been conquered by Montreal climbers. "In 2005, we were developing a lot of new climbing lines in the North, in Val David," explains Antoine. '' But we started to have a little less time to constantly go up north and there was the whole parkour/Yamakazi wave that inspired us. We then started to look at the buildings a little differently" In addition to the inspiration of the parkour athletes, the climbers were also inspired by the arrival of French Spiderman Alain Robert in Montreal. The climber was one of the pioneers of urban climbing. He has climbed the Crowne Plaza Hotel in Montreal, but his biggest achievements remain the Eiffel Tower in Paris, the Empire State Building in New York and the Petronas Twin Towers in Kuala Lumpur, Malaysia. At this point, Antoine and his partners began to wonder how they could use street architecture in the city to keep climbing? "Disturban is a video project we did to show all the lines we had achieved in Montreal." Among the places conquered by climbers at the time were the Atwater tunnel and the Lasalle metro station. "There's not a time when I go through the Atwater Tunnel that I don't remember when we climbed it," says Antoine. '' When I pass in front of the Lasalle metro, I see it as a climbing boulder. Urban architecture is very geometric and linear and it allows us to see potential lines to climb." With this in mind, Antoine and his climbing partners, Marc-Antoine Vigneault, Zoe Beauchemin, Jay Jeong and Bea Evans, returned to conquer Montreal's urban architecture. Bridges, buildings, subway stations, they pushed back the limits they had set for themselves in 2005 as part of this new series. Like skaters, climbers tend to look at urban architecture from a different perspective. What may be just a staircase for a normal person will be seen as a set of 8 steps with a handrail to grind on by a skater. In climbing, it's the same thing. But the parallel between these two marginal sports does not stop there. " If you're going to do urban climbing, it won't be long before you're going to have a hard time. It's like skateboarding… the security will come, the owner will be angry, the police will come… we've been taken out of spots very often. It's not that much fun." Not only can it be a complicated activity because of prohibitions, urban climbing can be very dangerous. It is not for beginners, nor for those who are afraid of heights. "People are used to climbing in gyms with big mattresses and walls no higher than 15 feet. When you go outside, you have to calculate your risk. You can't be as reckless when you climb on an urban structure as when you climb in a gym, because outside, the fall is real," concludes Antoine. Sustainability Notes Athletes and filming crew are all from MTL so transports were optimized on this shooting.