Film
If You Give A Beach A Bottle
Inspired by a picture book, Max Romey heads to a remote beach on Alaska's coastline in search of marine debris.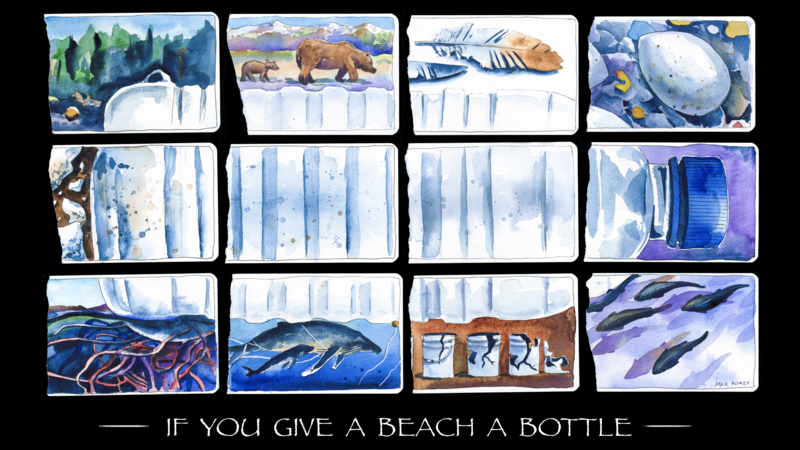 About
Country / Nationality
United States
Our Judges say:
A marine debris info film, but it's interesting, entertaining and beautifully produced

Paul Hodgson Music Judge
Max Romey's film has the most vibrant colours just like his beautiful water colours (pretty appropriate, huh?). Really striking and creative cinematography shouting the very important message of this film. I hope his vision come true. A brilliant short film.

Simon Taylor
Really creative and inspiring especially considering the overall daunting message. Loved the mixture of illustration and filmmaking. Something different - well done!

Hannah Maia
A beautiful mix for artistic disciplines to tell us a narrative of practice pollution. Great concept and well-executed.

Ed Birch Director of Salt-Street productions
Five years ago I returned from an ocean plastics clean-up on the remote shores of Kayak Island in Alaska. I wanted to share about the amount of marine debris and the solutions to address this problem, but the more I looked into it the more overwhelming and complex the issue became for me. This slow-moving tsunami of plastic sat in the back of my head until I returned home and had time to look at this issue in a new light. I still find marine debris overwhelming and complex but sharing the big picture helps me see the ways amazing people from all over could come together to find solutions.
Sustainability Notes
Sustainability is a tricky balance with this film and ocean plastic clean-up. Traveling out to Katmai and Kodiak Alaska was a fuel and energy-intensive trip to pick up a fraction of the ocean plastics washing up on Alaska's coast every year. Yet without trips like this its very hard to see, or even imagine the effect global marine debris can have on somewhere as remote as Katmai. We tried to film as sustainable as possible by overlaping trips for efficiency and using a single filmmaker but we see a film like this as a spark to help raise awareness about the larger hidden problem that starts on land.