Event
ShAFF Online –Graham Hoey, Tom Randall & Gary Gibson Talks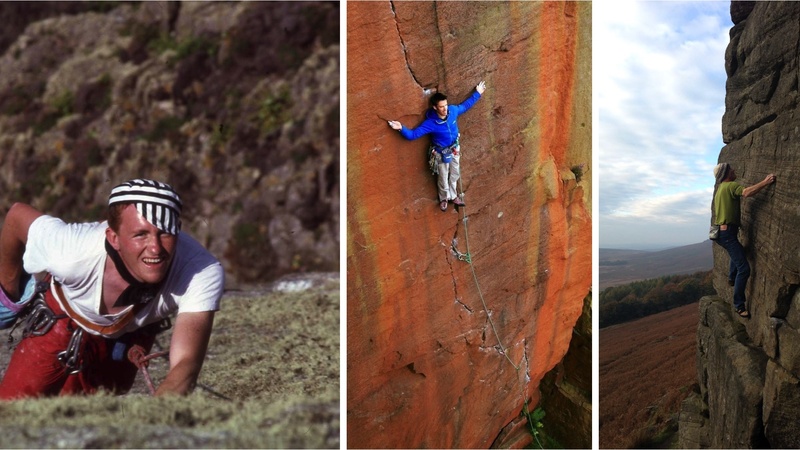 About
Starts
26 Apr '21 | 7:30pm
This evening will feature two halves. First up at 19.30 Tom Randall will interview Graham Hoey. Then at 20.30 Gary Gibson will give a solo talk.
Graham Hoey:
Graham's passion for climbing began fifty years ago on Gardom's Edge and ever since then gritstone has been his spiritual climbing home. It was on the gritstone edges that Graham honed his technique and a style which saw him leading or soloing routes on sight up to E6. Despite climbing all over the world since those early years, it is on his local gritstone where he is most at home and his knowledge of the crags and routes is unparalleled. This knowledge has been used extensively in Graham's authoring and production of climbing guidebooks to the Peak District for nearly forty years, and for twenty years he was a member of the British Mountaineering Council's guidebook committee. He was also one of the lead researchers and authors for the much-acclaimed publication book Peak Rock, the authoritative history of Peak District climbing. His latest publication, Peak District Gritstone, is a selective guidebook to gritstone climbs throughout the Peak District and is released through Vertebrate Publishing at the end of March.
Tom Randall:
First and foremost I am a trad climber, or perhaps an adventure climber. I love the challenge of the unknown in climbing and I think for me, that trad climbing satisfies this desire. I've spent most of my climber career establishing new routes either in the UK or abroad. Somewhere along the road, I fell into the niche of crack climbing and this is probably where I have had my greatest successes. I'm not sure that it's because I'm any better than anyone else at this, but more that no one else enjoys the pain!
Gary Gibson:
Over the last forty years, Gary Gibson has made the first ascents of over more than 4,900 routes. These have given enjoyment and exhalation to untold thousands of climbers.
Bedevilled by controversy, mostly of his own making, Gary has gone his own way and clashed with the climbing establishment of the day throughout his climbing life. Over time, British climbing has changed and so has Gary but the obsessive streak still burns brightly. Hardly a day does by without Gary cleaning, new-routeing or re-gearing.
Although nowadays remembered for his sport climbing, his traditional climbing background has almost been forgotten; and his list of first ascents is impressive: A Widespread Ocean of Fear (Lundy), Controlled Burning (Lundy), Always the Sun (Pembroke), Falling Towards England (Pembroke), Berlin (South Wales), Feline (the Wye Valley), On Reflection (Ireland), Clarion Call (the Peak District) and Relentless (Clwyd Limestone) are just a small selection of his many routes.
In 1977 Gary set out on a mission to become famous and over forty years later that obsession shows no sign of abating.
Gary has many anecdotes and stories to share, perhaps most important of all why he loves the sport and those that he has shared it with, so much.
As with all the ShAFF Online talks, there's no cost to register and enter but we'll ask you to make a donation. These talks have replaced our in-person events, so we would very much appreciate it if you'd consider donating the price of a pint or two to help us keep arranging events like these.
Graham's forthcoming Guidebook: https://www.v-publishing.co.uk/books/climbing/climbing-peak-district-gritstone/
Gary's Autobiography: https://www.ukclimbing.com/gear/publications/other_publications/blood_sweat_and_smears_by_gary_gibson-12376
More about Tom: https://latticetraining.com/about/tom-randall/ and https://wideboyz.com
------------------------------------------
The talk will be delivered using Zoom. We recommend that you download the app and install it ready. You will be able to join the meeting via a link in your confirmation email.
Donations will be shared between the speakers and ShAFF. Thanks in advance.