Article
Sheffield Clothing Repair At ShAFF
Keep your outdoor kit going for longer, so that the adventure never has to stop!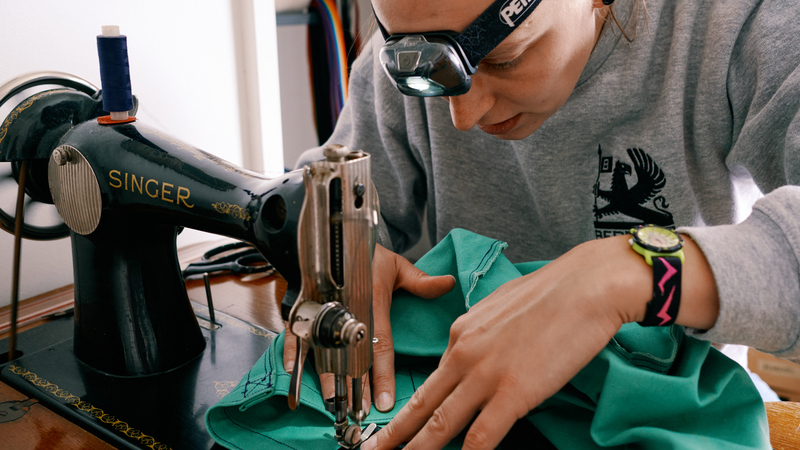 About
Sheffield Clothing Repair will be located in The Outpost over the weekend of ShAFF, giving demonstrations with their antique Singer sewing machines. Founder and chief repairer Becky Kirby will be giving a short talk A Repairable Future on Sat at 2pm. Here, Becky expains the vital connection between adventure and repair. As she says, when your kit's knackered, the adventure's over...
"My name is Becky and I'm the owner and chief repairer at Sheffield Clothing Repair. I've lived in Sheffield for the past 11 years but was born and bred in Wensleydale, North Yorkshire. My Mum and her side of the family hail from the Shetland Islands, 110 miles away from mainland Scotland, where repairing wasn't just a hobby, it was a necessity due to the extreme isolation. This habit of hers had me surrounded by a constantly moving needle and thread for as long as I can remember. The repair bug was caught and it has stayed with me to this day and has become the foundation of our small business. Repairing for us isn't just a money saving exercise, it's a route to independence and taking control of the things we own and use everyday.
My cave-exploring Dad introduced me to adventure on a large scale and through this I learned of the important connection between repair, exploration and extreme sports, where dependable and fixable kit are a necessity when miles from home. At Sheffield Clothing Repair, we're trying to bridge this gap and keep outdoor kit going for longer, so that the adventure never has to stop!
You'll be able to find out more by visiting our travelling workshop at The Outpost, where we'll be stationed all weekend. Our antique human-powered sewing machines will be whirring away on live repairs, while we show you the importance of repairing, and how you can do it yourself at home. Come and see us - You can try our machines, watch us work, ask us your repair questions, and hopefully learn the joy of repairing for yourself! We are looking forward to meeting you!"