Event
Trash Free Trails Trail Clean
Trash Free Trail Parkwood Trail Clean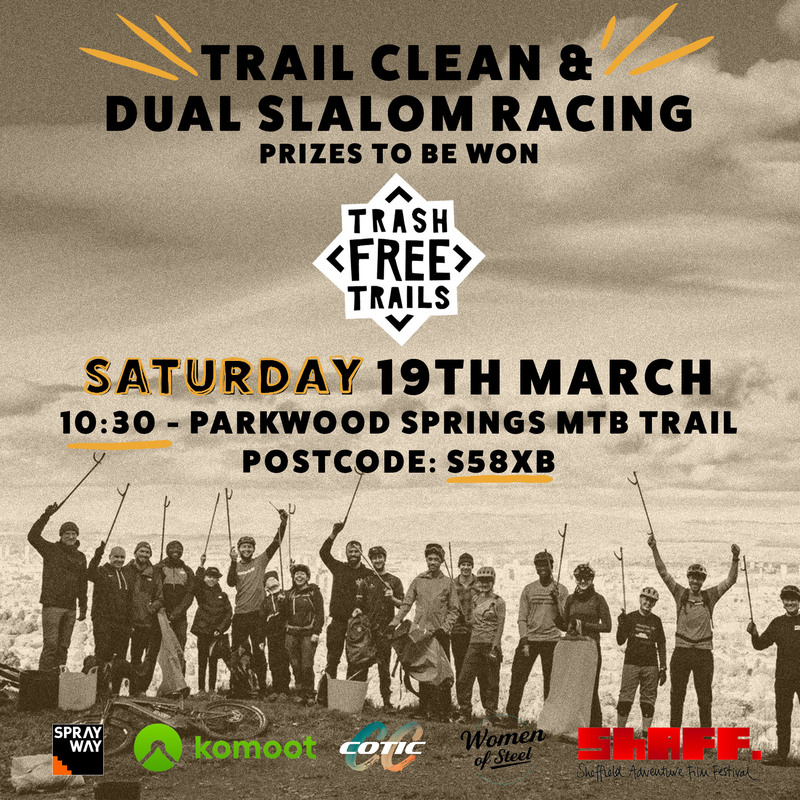 About
Starts
19 Mar '22 | 10:30am
Location
Trash Free Trails Trail Clean
Trash Free Trails is a CIC that exists to protect our trails and the wild places they take us to. Their mission is to remove 75% of Single Use Pollution (aka: litter) by 2025 and reconnect people with nature through Purposeful Adventure. 
Join them, Sprayway, Komoot, The Cotic Cycling Club and Cotic Women of Steel at Parkwood Springs MTB trails, S5 8XB, at 10:30 for a morning of Trail Cleaning goodness and Dual Slalom racing, if you're keen! PRIZES TO BE WON!!
Riding bikes, connecting with nature, chatting to mates, taking action to protect those places we love, all whilst contributing to the State of Our Trails Report - pioneering citizen science in collaboration with Bangor University that seeks to establish the causes and impacts of Single Use Pollution on our trails and wild places.
In collaboration with Sprayway and Cotic bikes, TFT works with young people to improve their self esteem, confidence and overall well being through the TrashMob Academy - a programme of nature connection, environmental awareness and pro environmental behaviour that has demonstrated improvements in behaviour, and the outcomes above - head to "The TrashMob" stand to find out all about it, or, even better, head to the "Made in Sheffield" session at 1615, or Bike Night at 1900 to watch "The TrashMOB" - a story of 3 young people that ran with the opportunity to develop their feeling of oneness with the world around them, facilitated by TFT, Sprayway and Cotic.