Film
We Are Like Waves
We Are Like Waves is an intimate look into how surfing changes Sanu's life, as she becomes one of the first female Sri Lankan surfers.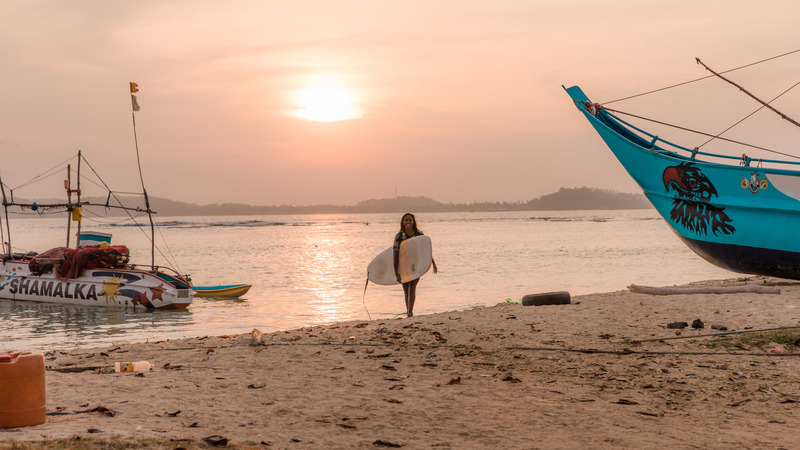 About
Country / Nationality
United States, Sri Lanka
Along the South Coast of Sri Lanka, surfing is everywhere. Yet only foreigners and local men fill the lineups. Surfing is not seen as a sport for girls. This is a result of cultural and societal expectations that place women inside the household, particularly in rural areas. Young girls are expected to follow certain standards: be kind, look nice, and smile. Attend school, study, work. Get married, and start a family. Be a housewife, cook, and clean. Most importantly, stay at home and put family first. The ocean is simply not seen as a place for women. Therefore, like most girls, Sanu grew up watching her brother surf, but never considered it as an option for herself. When Sanu turned 18, she began working in the kitchen at a surf camp alongside her brother, who worked as a surf instructor. At the surf camp, Sanu was often invited to try surfing by foreigners, but her fear of the ocean and going against her community's expectations made her decline the offer again and again. One day, Sanu was asked by her boss and mentor, Sophie, to join her at SeaSisters, a weekly swim and surf program established for Sri Lankan girls to help inspire and empower through surfing. Hesitant but curious, Sanu took the risk. Sanu must decide if she wants to continue a typical life as a housewife, or risk carving her own path as a surfer. This is a story of finding one's voice in a sea of expectations.