Event
Spirit Of Adventure at Sheffield Cathedral
Spirit Of Adventure at Sheffield Cathedral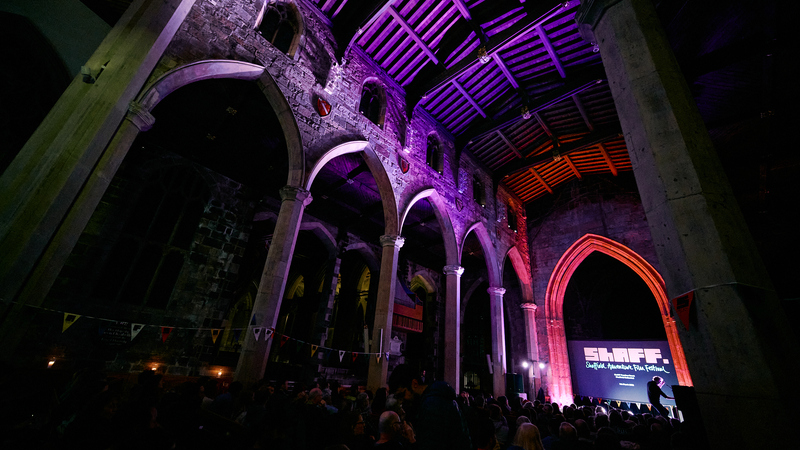 About
Starts
2 Sep '22 | 7:30pm
Location
Spirit Of Adventure at Sheffield Cathedral: ShAFF x Sheffield Showcase, 2-3 September
Designed to be seen and heard in the unique surroundings of Sheffield Cathedral, Sheffield Adventure Film Festival brings the wild outdoors into the heart of the city with a unique curation of adventure films and stories celebrating the spirit of adventure often found in surprising people and places.
Taking place 2-3 September as part of the city-wide Sheffield Showcase event, ShAFF's Spirit Of Adventure includes film screenings in amazing spaces, a specially-recorded caving-themed immersive audio-visual story and exhibition in the the crypt, and live storytelling from writer, comedian and presenter Niall Grimes. The Cathedral will open their bar, and local independent street food vendors will return to the courtyard outside.
Now in it's 18th year, Sheffield Adventure Film Festival takes place 3-5 March 2023 at the Showroom Cinema Sheffield, screening the best new adventure films from around the world alongside free talks and activities to inspire the people of Sheffield to get outdoors and have their own adventures. ShAFF's Spirit Of Adventure at the Cathedral is part of the city-wide Sheffield Showcase in which the city's independent festivals show off their creativity and diversity for a whole weekend of unique events.
The film programme includes titles that have not been previously screened at ShAFF, incuding River and The Rescue, alongside the Best of ShAFF 2022, The Ario Dream, and a new Adventure Bites loop.
Book Tickets via ShAFF Eventbrite (SIGN UP to our newsletter to be the first to hear when tickets are released). 
What's On
Friday 2 September
19:30 River - Cathedral (main screen)
19:30  - The Ario Dream (the Crypt)
Doors & bar open 18:45
Saturday 3 September
14:00-18:00 Adventure Bites film loop (main screen), The Honour Of Being Human audio story and caving exhibit (Crypt), live storytelling from Niall Grimes (Chapel of the Holy Spirit).
18:00-18:45 - Street food available outside the Cathedral
19:30 Best of ShAFF 2022 - Cathedral (main screen)
19:30 The Rescue (the Crypt)
Doors & bar open 18:45
Tickets
Friday 
£15 / £7.50 main screen, £10 / £5 crypt
Sat 
Day Ticket 14.00-18.00: £6 / £4 / Free for Accompanied Under 18s
Evening: £15 / £7.50 main screen, £10 / £5 crypt
Combined Ticket (main screen & day ticket): £18