Event
Howard Street Duel
Inner City Downhill Mountain Bike Race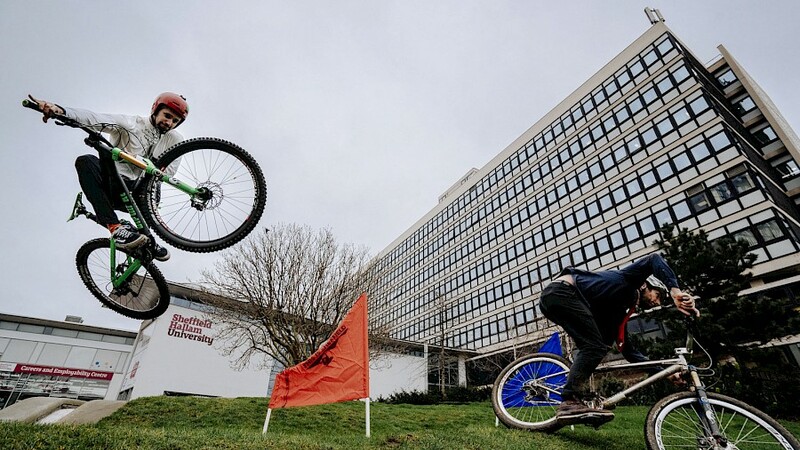 About
Starts
18 Mar '17 | 3:00pm
Location
A never before seen event for the city and an exciting addition to The Outdoor City Weekender, we're excited to announce The Howard Street Dual will be taking place on Saturday 18 March.
This unique dual slalom mountain bike race, will see riders race head-to-head, two at a time, down a course in an exhilarating knockout-style event. The fastest two riders of the day will then take each other on in the Grand Final.
Featuring a line-up of specially invited riders, the race will be a chance to see some of Sheffield's home-grown talent, who are usually out at the likes of Wharncliffe, Grenoside and Parkwood Springs, right here in the city centre. The event will be free for spectators to come and watch.
The course will take the riders from the top of Howard Street towards the railway station via a descent along grassy and gritty slopes. The course has even had design input from Sheffield's own star mountain biker Craig Evans.
Evans, who will miss the event as he'll be away competing at the Crankworx series in New Zealand, said: "There are urban downhill events in other cities, but I think an urban dual in a city centre may be a first.
"This is a big move for Sheffield and I think it goes a long way to showing the passion for mountain biking here in the city.
"I've been messing around on a bike in Sheffield since I was a kid and spent most of my time at Wharncliffe, which is still my favourite ride.
"I'm gutted that I won't be here for The Outdoor City Weekender but it's been awesome to be involved in the track design. The MTB community are pretty excited about the event.
"A good track for me is a varied one with slow and techy parts, jumps, corners and rhythm sections to split the field and make for good racing. The Howard Street Dual will have all of this plus a city centre backdrop; it is going to be an awesome event and a great experience for spectators. "
Racing at the Howard Street Dual will begin at 3pm and finish at around 6pm. Entry is through the This Is Sheffield and the British Cycling websites, where further information can also be found.
More information on The Outdoor City Website