Film
Body Of Water
Swimming in the winter teaches you who you really are.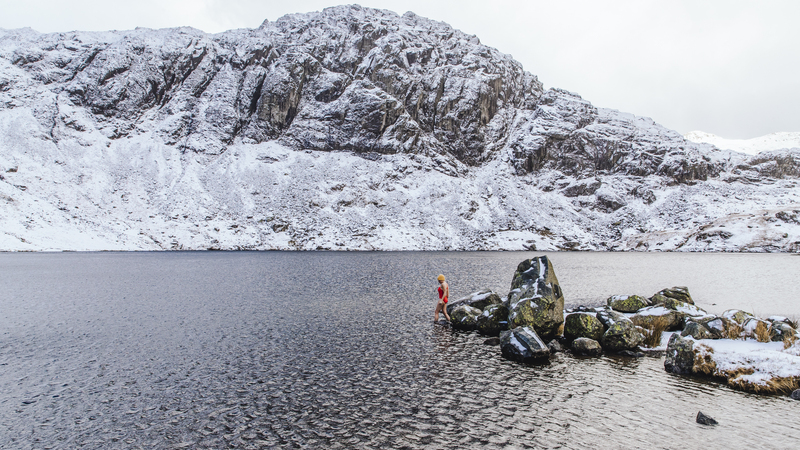 About
Director
Scott M Salt & Benjamin Paul
Producer
Scott M Salt & Benjamin Paul
Sponsor
Sidetracked, dryrobe, Swim Feral
Country / Nationality
United Kingdom; Scotland and England
Our Judges say:
Chasing Lake District ice swimming whilst overcoming adversity.

Jimmy Hyland
A meditation on identity through the medium of wild swimming.

Paul Hodgson Music Judge
Beautiful thoughtful film. Images very striking.

Simon Taylor
The documentary, Body Of Water, spends a winter following wild swimmer Gilly McArthur on her mental and physical journey to seek out remote, icy waters. From the windswept mountain tarns of her home in the Lake District to frozen lochs in the Scottish Highlands, one thing is clear; the search for ice is not as easy as it used to be. Diving straight into the heart and mindset of the cold water swimmer, this film provides a window into a world that many can't comprehend, illustrating why this niche pastime is so compelling and full of joy for those who are bold enough to try it. Taking the audience on an immersive and deeply meditative journey, Body Of Water shows us how regular interaction with our natural surroundings can help quieten the mind and bring happiness in an ever changing and frantic world.
Sustainability Notes
In terms of a carbon footprint, I would assume that Body Of Water's is quite small. The principle photography occurred before lockdown, between January and March, which meant that car sharing was possible. Additionally, the principle photography took place in the Lake District, where Gilly lives and where both Scott (the co-directer) and I have bases. This led to a much smaller amount of travel. The Scottish sequences were all shot over one, multi-day trip, which again, necessitated less travel. As a theme, climate change and by extension, environmental sustainability, is brought up due to the difficulty of finding ice. Gilly laments that even her friends running winter skills courses in the Cairngorms are finding it harder to find reliable conditions. A more general respect for nature is present throughout the film that hopefully translates as a call for stewardship and protection. Gilly talks about how immersion in natural surroundings can facilitate meditation, can calm and can heal broken hearts and souls. The overall ethos of the film is that of the positive aspects of human engagement with the wilder places, and therefore the necessity to protect and respect them.