Film
Body Of Water
Swimming in the winter teaches you who you really are.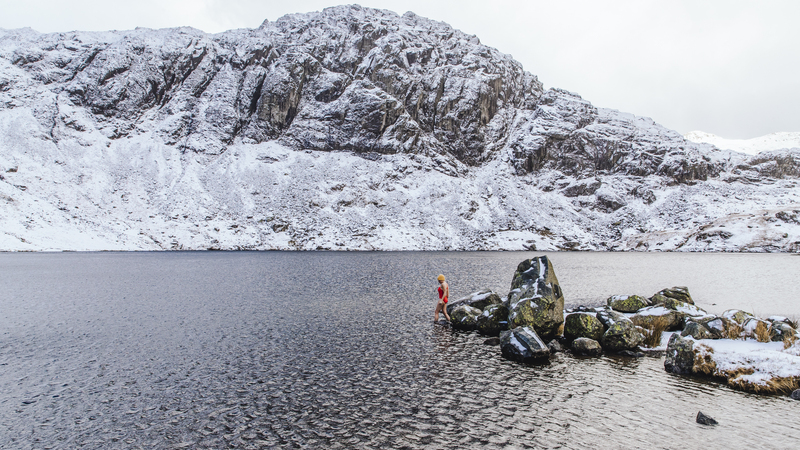 About
Director
Scott M Salt & Benjamin Paul
Producer
Scott M Salt & Benjamin Paul
Sponsor
Sidetracked, dryrobe, Swim Feral
Country / Nationality
United Kingdom; Scotland and England
Our Judges say:
Chasing Lake District ice swimming whilst overcoming adversity.

Jimmy Hyland
A meditation on identity through the medium of wild swimming.

Paul Hodgson Music Judge
Over the past year, people all across the globe have been swept up in an exciting activity - wild swimming. From rivers to lakes to seas, swimming outside of the confines of a pool has seen a huge rise in popularity as many take the plunge. The documentary, Body Of Water, spends a winter following wild swimmer Gilly McArthur on her mental and physical journey to seek out remote, icy waters. From the windswept mountain tarns of her home in the Lake District to frozen lochs in the Scottish Highlands, one thing is clear, the search for ice is not as easy as it used to be. Co-directed by Scott M Salt and Benjamin Paul of Sequence 13 Films, and with an original score by Oli Kilpatrick, Body Of Water was shot over the winter period in early 2020, before the outbreak of Covid-19. The production team worked in close collaboration with Gilly and her friends in the wild swimming community, a community that is growing exponentially. Having already been on an upward trend, with limited options due to lockdown restrictions around 7.5 million people in the UK have swum in an outdoor location this year. Body Of Water, like the pastime it features, is an escape from the fetters of the pandemic. Diving straight into the heart and mindset of the cold water swimmer, this film provides a window into a world that many can't comprehend, illustrating why this niche activity is so compelling and full of joy for those who are bold enough to try it. Taking the audience on an immersive and deeply meditative journey, Body Of Water shows us how regular interaction with our natural surroundings can help quieten the mind and bring happiness in an ever changing and frantic world. One key theme of the film is that wild swimming in winter, even in water so cold that it is frozen, is not a superhuman feat. It does not require Olympic levels of fitness but is truly for everyone, provided that a few basic safety rules are adhered to. As wild swimming continues to expand its popularity, Body Of Water is in the vanguard, inspiring the audience to push a little harder and maybe, just maybe, to find joy in something that they used to think was totally impossible. As Gilly says, "swimming in winter teaches you who you really are".