Film
Brave Enough
An unlikely stand up paddle board journey across England creating a journey home to joy.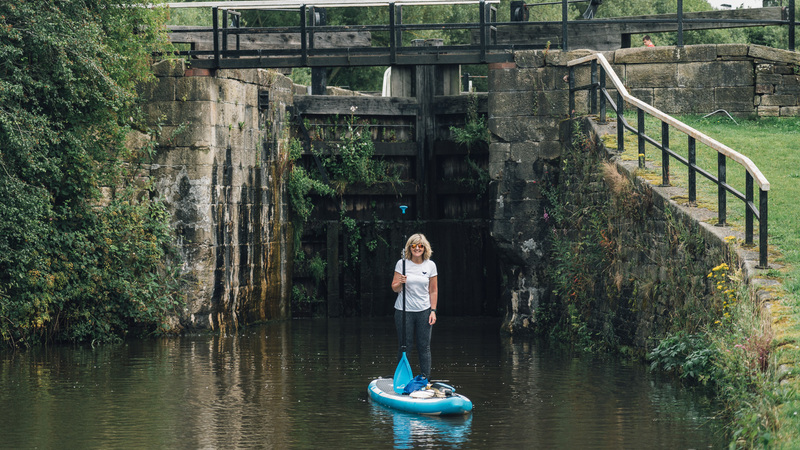 About
Country / Nationality
England
Our Judges say:
Endurance paddle-boarding across the whole country with extra value-added litter picking. Heart-warming, heart-felt and fun.

Paul Hodgson Music Judge
A beautiful person in a beautiful film. So totally authentic - ten steps beyond being simply candid. Lots of humour. Lots of tears. Message so clearly delivered. FAB-U-LOUS.

Simon Taylor
Jo Moseley is a 55 year old stand up paddleboarder, and single mother of two. In 2016, she came up with the idea to SUP 162 miles from Liverpool to Goole on the Leeds Liverpool Canal and Aire & Calder Navigation. Her adventure idea was met with less than enthusiastic responses, namely that it might be difficult for someone "of [her] age". So she put the dream away. In 2019, Jo revisited the idea whist recovering from two frozen shoulders, and decided that she would show herself that she was Brave Enough. The filmmaker, Frit Tam of Passion Fruit Pictures, met Jo at the Women In Adventure Expo in 2018 and upon hearing about Jo's coast-to-coast adventure, knew instantly that they wanted to be onboard. An unexpected gift from the challenge, was their intergenerational friendship that blossomed throughout Jo's trip. Learning from each other, their close bond resulted in Brave Enough capturing all the nuances of a paddleboarding adventure whilst revealing the honesty of what it means to adventure in your mid-life years.
Sustainability Notes
The film documents the daily litter picks that Jo would collect from the canal, and then place on her paddleboard. Ranging from the all-too-frequent plastic bottles to fencing, balloons and a crisp packet that had been in the canal for 16 years (and was still completely intact). The film shows the devastation of the litter, culminating in a dead bird that lays atop a pile of rubbish floating in the canal. Jo raised money for the 2 Minute Beach Clean organisation during her trip, so there is a constant theme throughout the film of litter picking and avoiding single-use plastics.