Film
My Flip'n Wife
One glorious day in the desert, Kaylee Gibb decided to flip her mountain bike for the first time as a mother of 3 wild youngsters and at the age of 33.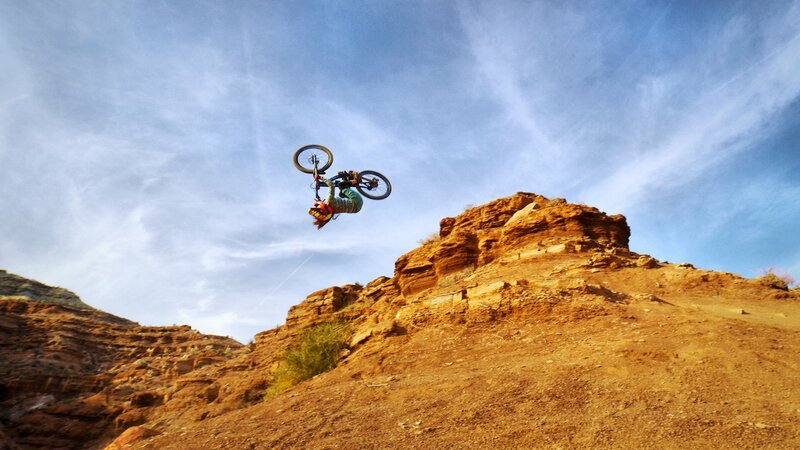 About
Country / Nationality
USA
Our Judges say:
Nice brief window onto this woman proving you can get your sporting life back after childbirth.

Simon Taylor
Coming back to your passion, its never too late!

Jimmy Hyland
Kaylee was introduced to mountain biking during college but only borrowed bikes occasionally and returned them often broken. Later in life she was able to rectify and replace those parts from her poor college days but it was during that time period that she discovered that she had a natural talent for the sport and was hooked. Although her passion for the sport grew and she would often dream about pursuing a career in the sport, the timing wasn't right, she also had other life goals she wanted to accomplish and her riding took a backseat for many years. During this time, she married her best friend, moved to Canada, and started a family. As time went on, this dream seemed less and less likely, as she wrestled 3 young children. In 2017 she moved to Whistler reigniting her passion for riding, and she decided that she wanted to work towards becoming a sponsored freeride mountain biker. She figured the first step in accomplishing this goal should be doing a backflip, on a full suspension mountain bike, in natural terrain. This is something only a very select group of female riders had accomplished at the time. This film documents the first backflip to dirt she ever did. It was a 27 foot, lip to landing, backflip on a full suspension bike. Since then she has picked up several sponsors, competed in different slope style like events, and continued to add new tricks to her quiver. She still recovering from a broken ankle, but her riding has finally reached a level where she is in the process of making a web edit and then pursuing funding for a full feature length film featuring her and directed by her husband, Ryan Gibb (Creator of the movie Life Cycles).