Film
Return To El Guayas
The first descent of one of Colombia's wildest rivers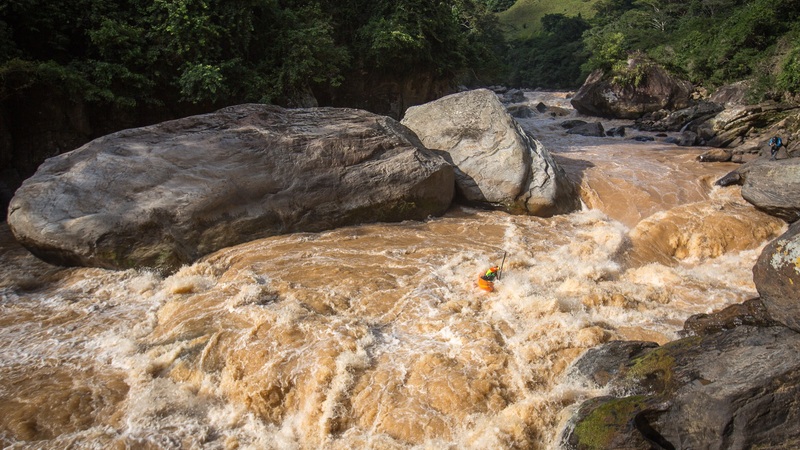 About
Director
Ben Stookesberry
Producer
Ben Stookesberry
Sponsor
Kokatat, Eddie Bauer, Sierra Nevada Brewing
Country / Nationality
Colombia, USA
Our Judges say:
A fun-fuelled kayaking trip to Colombia takes on a darker tone.

Paul Hodgson Music Judge
These guys are so mellow given the risks they are taking. Interesting to find out about Columbia's amazing number of rivers and the risks to them because of dams. Creative editing added to the quality of the film.

Simon Taylor
A classic Ben Stookesberry Adventure!

Claire Carter Writer, Film Officer for Kendal Mountain Festival, 'Creative Consultant'.
2 time National Geographic Adventurer of the year and award winning film maker Ben Stookesberry joins up with Red Bull paddler Rafa Ortiz and long-time expedition kayaker Lane Jacobs to attempt the first descent of one of Colombia's wildest rivers: El Rio Guayas. Ben, Lane, and Frenchman Jules Domine previously attempted the river in 2017 but hiked out of the remote river 3 days in because of high water and concerns about the security of this area known for it's history of armed conflict. This time around Ben, Lane, and Rafa reach the river with a perfect flow and perfect weather. In the middle of the night 2 rain pours down, leaving the team stranded in the most remote portion of the canyon. With rumors of armed groups in mind, they paddle into the now flooded unknown river.