Film
Running the Roof
3 friends, 1 drunken bet, 10 marathons later...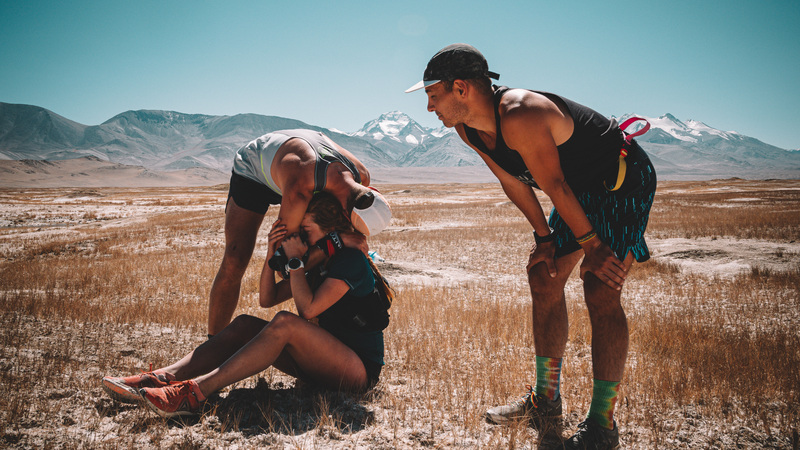 About
Director
Ben Crocker, Alexis Tymon
Producer
Alexis Tymon, Jody Bragger, Ben Crocker
Sponsor
Michelob Ultra, Moju, Suunto, Midnight Runners, Tribe
Country / Nationality
United Kingdom
Our Judges say:
Pure psyche.

Claire Carter Writer, Film Officer for Kendal Mountain Festival, 'Creative Consultant'.
Amusing and personable tale about running 10 marathons in a week in Tajikistan all as a result of a drunken bet.

Paul Hodgson Music Judge
Real jeopardy in this adventure. Nice combination of characters. Striking and VERY BIG scenery.

Simon Taylor
Close the un necessary tabs, and get out to do something that inspires and pushes you! A great expedition running film!

Jimmy Hyland
Like all good stories, this one begins with a drunken bet.    Three friends, bonded by a love of running, were desperate to ditch their desks and go on an adventure. One night, after a few too many drinks, they placed a bet.  They would spin a globe and wherever their finger landed, they would run.    They spun. Tajikistan.    Tajikistan!?    A part of the world few have heard of let alone travelled to. A region shrouded in a reputation of war and danger. A place of extreme heat during the day, dropping to dangerously cold temperatures at night. Where the altitude is so high, it feels like you're breathing through a straw. Not exactly prime conditions for running.    They accepted their challenge.They would run across Tajikistan from the border of Afghanistan to the border of China, covering 400km in just 7 days - about a marathon a day, everyday, for a week. They would run through a valley of spectacular proportions, the locals call it 'the roof of the world'.   This is a story without finish lines or medals. Rather what happens when you trust in nothing but your own two feet, to carry you across one of the last truly wild landscapes on earth. Self-doubt, self-discovery and a whole lot of mountains.  This film is a true adventure into the unknown.  
Sustainability Notes 
Running the Roof unfortunately does not directly address sustainability as a theme. We encourage the idea of traveling by foot, running, walking - a very minimalistic and impact-light way of seeing the world. However the fact that the film's location is abroad (to UK viewers) could be seen as advocating international travel with its consequential carbon footprint.  
This film was edited by 2 individuals over the course of UK's Covid-19 lockdown. There was no additional travel required for post-production. This film is a production of Sourcy Ltd which has very recently signed up to 1% of the planet. As of 2021 we will contribute 1% of our annual turnover to environmental causes. Thus any financial future benefit to Sourcy Ltd as a result of SHAFF would indirectly benefit environmental causes. One of the film's directors Alexis and one of the film's runners, Jodie Gauld, follow a vegan diet for environmental reasons. It was asked of one of our sponsors, Real Turmat, that the expedition food donated for the trip be 75% vegan options.  
As the filmmakers however, we do acknowledge that this film could have done more to promote sustainability.  
Our film addresses sustainability in a slightly complicated way I suppose. By filming abroad and showcasing an 'exotic/far away country', we might be seen as encouraging people to travel overseas by air (with air traffic pollution a known contributor to greenhouse gases). However, as these things are never totally black and white, a more nuanced and positive lens through which to view this aspect of the film could be that the communities that occupy Tajikistan's Bartang Valley (where our film takes place), are actually some of the most sustainable and subsistence agricultural villages we've ever come across. The villagers there live on what they grow with very little external delivery and influence from outside; they practice seasonal preservation of food, maintain village veg gardens and rear their own livestock for food and labour. They live off a small amount of electricity from one centralised power line and don't have the means or money to overconsume. This is stated by no means so as to romanticise an otherwise extremely hard way of living, brought about by years of political flux in the 1990s but rather that if, as a by product of watching Running the Roof, someone was inspired to travel to this region of the world, they would not only be contributing to what we would hope is a lighter style of eco-tourism but also, by opening their eyes to such a different subsistence way of living for most, they might be inspired and re-educated to bring some of this energy back into the rest of their lives. We know that it's really influenced us. By travelling carefully and considerately to other parts of the world, it hopefully strengthens your desire to act and live more sustainably. You feel more of a responsibility to protect the planet once you've seen how beautiful it truly is.  
3 of the 6 crew are plant-based for environmental reasons, with plant-based diets named by Oxford University as one of the main ways individuals can contribute to reducing their personal carbon footprint. The food consumed on the trip was also 80-90% vegan where it was possible to control it, which was a conscious decision made by the filmmakers and runners.