Film
The Horse Tamer
Shukhert, a Mongolian vigilante Darhat horseman, pursues horse thieves relentlessly, all the way to the edge of taiga, on the border with Siberia.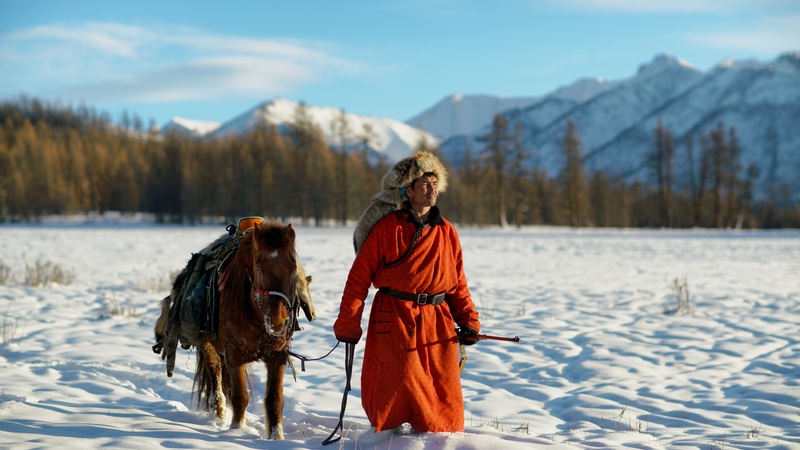 About
Producer
Vivien Lemaignan
Country / Nationality
France
Our Judges say:
A beautiful, respectful and fascinating glimpse into a timeless story about an inspiring person and way of life. This is a beautifully shot, beautifully brought together film about one of the last uncontrolled borders in the world!

Jimmy Hyland
Mind-blowing cinematography and incredible ethnographic story telling in this expansive, transporting film. Also features extensive wrestling scenes which are documentary gold. Obviously this is a way of life which is at enormous risk but this is an amazing glimpse into a traditional way of life which would easily adapt to modernity given half a chance. There's huge buzz about this movie and while it's long, you probably haven't seen anything like it. Recommended.

Paul Hodgson Music Judge
Visually stunning. A man so connected with his natural environment.

Simon Taylor
For centuries, the Darhat people have protected the border between Mongolia and Russian Siberia. A nomadic population, the Darhat are famous for their breeding of powerful white horses with which they migrate from steppe to steppe. But for the last few years, thieves have been seizing the Darhat's horses and selling them to Russian slaughterhouses. The thieves belong to the Tuvan tribes and live on the Russian side of the border. To get the horses across, they are helped by the Tsaatan, reindeer herders, who live on the Mongolian side of the border. When his white stallion disappears, Shukhert, a Darhat horseman, decides to pursuit the bandits with many odds against him, to find his horse and bring him back in time for winter. In this oriental western-style documentary, reality exceeds fiction, but all situations are authentic. Horse thefts being common in this region and worth a lot, always triggers epic chases through the grandiose landscapes of northern Mongolia. From Buddhism to shamanism, from horses to reindeer, from hunters to gold searching, his journey is full of encounters that are all combined to understand the mosaic of a complex region, crossed by multiple ethnic and socio-economic tensions. Through his knowledge of the Mongolian territory, culture and language, as well as his experience of living in Mongolia for over ten years, Hamid Sardar bring us along in this extraordinary documentary to the heart of a world only accessible to the natives, at the frontiers of danger and justice.
Sustainability Notes
The film was made with a very small team (a director and an assistant), moving at the pace of the nomads, on horseback and in jeeps. Hamid Sardar's artistic approach is a long-term one. It is not a question of arriving in a distant country and filming, but of taking the time to go and meet the people who live there. The subject of the film also defends the values of sustainability: it is about documenting a way of life that is disappearing.