Film
A White Dream
In love with images and the cold, the wildlife photographer Jérémie Villet travels alone through the white deserts of the Yukon winter.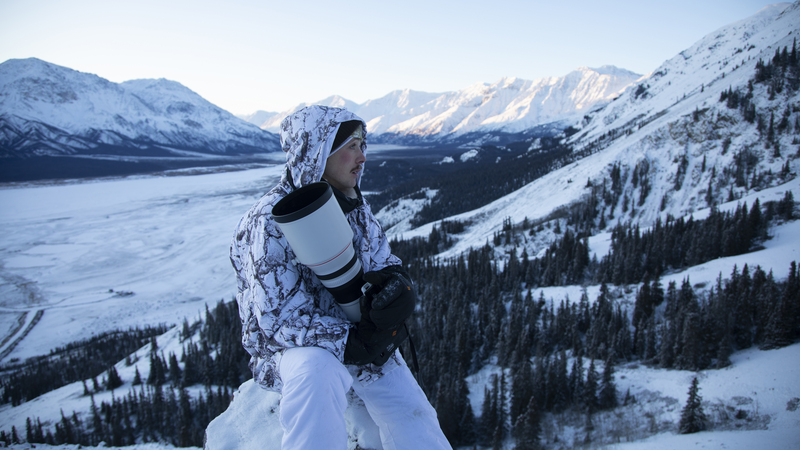 About
Producer
Alexandre Soullier
Country / Nationality
France
Our Judges say:
What a wonderful film. Beautiful images - very varied and nicely interwoven. Such an interesting character - so tough to make the journey but with such a tender approach to the animals and the project. Interesting other characters and lots of jeopardy.

Simon Taylor
One of my favourites from the festival. So beautiful and passionate.

Hannah Maia
A character studying of people and animals alike. This beautifully paced and sound mixed film will have you immersed within a landscape as you track wildlife through the snow.

Ed Birch Director of Salt-Street productions
A White Dream follows the personal quest of talented wildlife photographer Jérémie Villet, a dreamer of images in love with the cold.  Awarded with the prestigious Wildlife Photographer of the Year contest, he travels alone through the white deserts of the northern hemisphere with his pulka and his telephoto lens in quest of animals living in extreme cold. Each year, when the first snow falls among the last leaves of autumn, the white landscapes form the perfect canvas for the young photographer's eye. He uses the white of the snow like a painter uses white paper to reveal the purity of nature and convey its beauty. His monochromatic and minimalist photographs capture moments of dreaminess, far from the extreme nature of the conditions. His works show that contemporary art can be rooted in the aesthetics of nature.  On his upcoming expedition to the Canadian North, Jeremie will explore the extreme wilderness of the Yukon, with the main objective of photographing the iconic "Mountain Goat", which depends entirely on the cold and the altitude for its survival. Rarely photographed in winter, this white animal comes straight out of the last glacial period. His quest, intimate and universal at the same time, is to bring back pure photographs of this species, witness of a sensitive and fragile fauna. To succeed in approaching it, the difficulty of access of the mountain sites and the freezing temperatures will make his task difficult. Carried by adventures and unique human and animal encounters, this documentary allows us to enter into the photographer's intimacy by focusing on his approach and his motivations. This photographic quest is also a delicate approach to a changing world. These wilderness areas are the first witnesses of the ongoing warming and they are quickly transforming. Far from any civilization, the immaculate nature has remained his childhood garden, and photography, his inalienable right to dream. As in a parallel world in which reality is a dream. A dream dressed in white.
Sustainability Notes
The Mountain goat images, main goal of the film, required to stay out in the mountains during a 7 days expedition. We used our legs, tents, sleeping bags, dehydrated meals, eyes, energy and discretion in order to succeed.