Film
A Woman's Place
A conversation with the Pinnacle Club - Celebrating 100 years of women's climbing in Britain.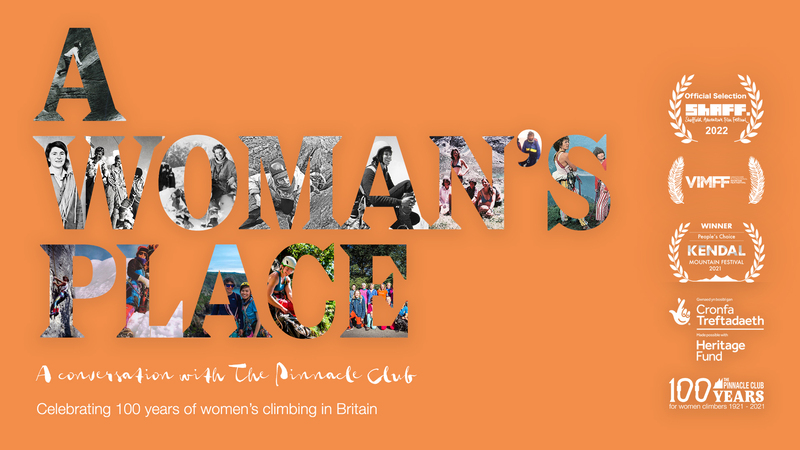 About
Country / Nationality
United Kingdom
A funny, heartwarming and honest conversation with The Pinnacle Club - highlighting women's longstanding involvement in climbing and aiming to rebalance a narrative which has been primarily about men. The Pinnacle Club was formed in 1921 to "foster the independent development of rock climbing amongst women and bring together those interested in the pursuit" during a time when women were a minority in the outdoors. In 2021, is there still a need for a women's only climbing club? Join members to discover why they joined, what it means to them and what the club looks like going forward. Sustainability notes - Production: Even as a small 2 person company we endeavour to reduce our environmental footprint wherever possible. Basic practises such as - packed lunches and reusable water bottles on every shoot, composting waste, recycling, arranging shoot days around one area to limit travel, using local crew and lift-sharing with additional crew members where needed, equipment and lighting with the lowest energy consumption, using 100% renewable energy supplier, turning off equipment when not in use and offsetting our emissions. Club: The Pinnacle Club Hut, featured in the film, uses a reed bed system to treat waste water to help minimise impact on the environment. The water supply is also off-grid, coming from a stream and then treated with ultraviolet light. The centenary branded clothing that also features in the film was particularly chosen for its eco credentials (organic, fair trade, environmentally friendly inks, plastic free etc). Overall the club and it's members are mindful of the environmental issues facing us all. Looking forward, the club is taking into account environmental, socio-economic and ethical considerations.