Film
Alan Hinkes
The first Briton to climb the world's highest mountains.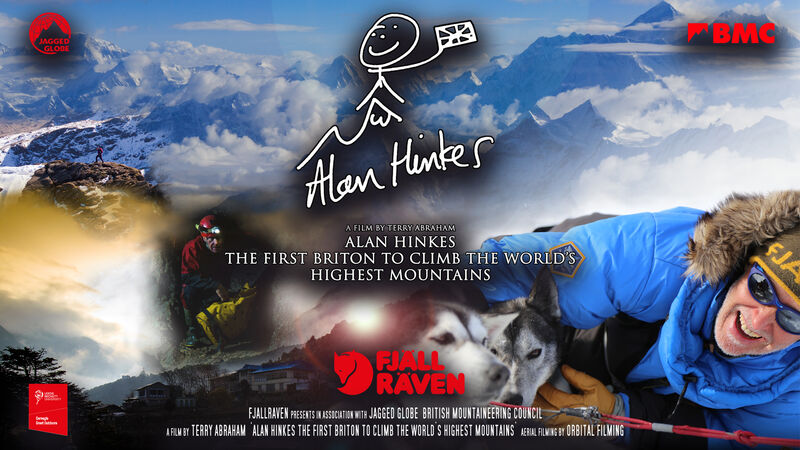 About
Country / Nationality
United Kingdom
Tags
Our Judges say:
The character study into ALAN HINKES a legend of British mountaineering.

Ed Birch Director of Salt-Street productions
A documentary featuring Alan Hinkes, Yorkshire man and the only British person to climb all the highest mountains in the world. Alan takes us to some of his favourite outdoor locations around the UK, reminisces about his climbing life, and meets key members of the outdoor community.

Anna Paxton
Marvellous portrait documentary of legendary climber Alan Hinkes which is also a great travelogue of British landscapes

Paul Hodgson Music Judge
FJALLRAVEN PRESENTS IN ASSOCIATION WITH JAGGED GLOBE, BMC TV AND CARNEGIE OUTDOOR SPORTS ALAN HINKES - THE FIRST BRITON TO CLIMB THE WORLD'S HIGHEST MOUNTAINS  
From award-winning and critically acclaimed filmmaker Terry Abraham (BBC hits 'Life of a Mountain: Scafell Pike', 'Life of a Mountain: Blencathra') comes this epic documentary celebrating legendary mountaineer Alan Hinkes OBE; the first and only Briton to have climbed all fourteen 8000m peaks. 
 His enthusiasm for the British hills would eventually lead him to pioneering new routes on some of the world's most dangerous mountains and achieving his remarkable record of summiting the world's highest peaks. 
 Featuring stunning world-class landscapes from the Lake District, Yorkshire, Snowdonia and the Himalaya along with unseen archive footage of life in the 'death zone' this breath-taking and powerful documentary will both inspire and entertain lovers of the outdoors and those who have an interest in British mountaineering heritage.
(106mins, ©Terry Abraham 2017)