Film
Escape
Listen to the voice inside you. It's telling you to go.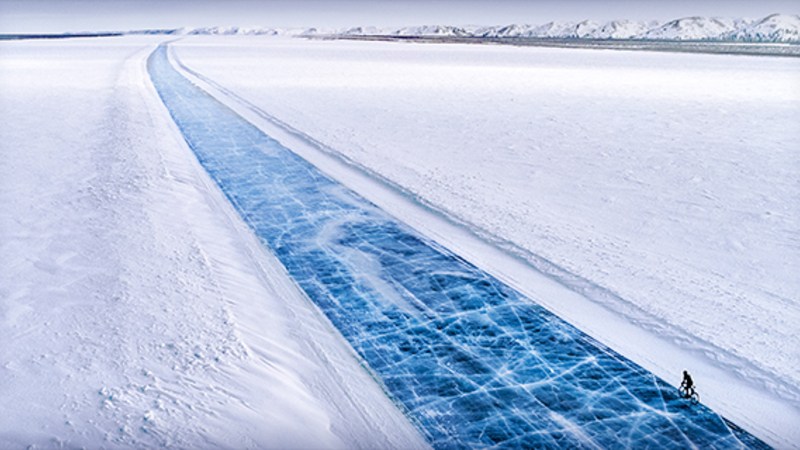 About
Featuring
Jean-Aimé Bigirimana
Country / Nationality
Canada
Our Judges say:
A man wanting to escape Society and take on a huge challenge find that it's society that he does miss after all. A beautiful film set on Ice roads in the Northwest Territories in northern Canada with some amazing bike mittens.

Ed Birch Director of Salt-Street productions
An insight into the mindset of a cyclist taking on an epic journey by bike through a frozen environment in the Northwest Territories, Northern Canada.

Anna Paxton
An adventure to escape expectation and in the process exceeding them.

Claire Carter Writer, Film Officer for Kendal Mountain Festival, 'Creative Consultant'.
Listen to the voice inside you. It's telling you to go. JaBig, a Montreal-based DJ, buys a bike on a whim and decides to attempt to beat the record for the longest continuous bike ride in a single country. What's more, he'll ride a single-speed, fixed-gear bicycle and finish in the winter, approaching the Arctic Ocean by way of Canada's northernmost continental hamlet, Tuktoyaktuk in the Northwest Territories. We pick up with him as he's closing in on his endpoint along a 188km-long ice road. In his final kilometres, he falls more times than he has in the previous 17,000km combined. JaBig knows he is where he is meant to be, but the final hours will push him further than he ever imagined. The journey is bleak and beautiful at the same time, and JaBig's story will make you pause, asking yourself, "where would I go from here?" Award-winning director Anjali Nayar (Gun Runners, Hot Docs 2016, Silas TIFF 2017), Award-winning producer Yves J. Ma (Hadwin's Judgement, Best Film at Banff Mountain Film and Book Festival 2015, and Grand Prize at Mountain Film Meeting in 2017 Zakopane, Poland) and a small crew flew in to join him on the windy and brutally cold last day of his ride.