Article
Adventure Activism - How we paid back the dirt!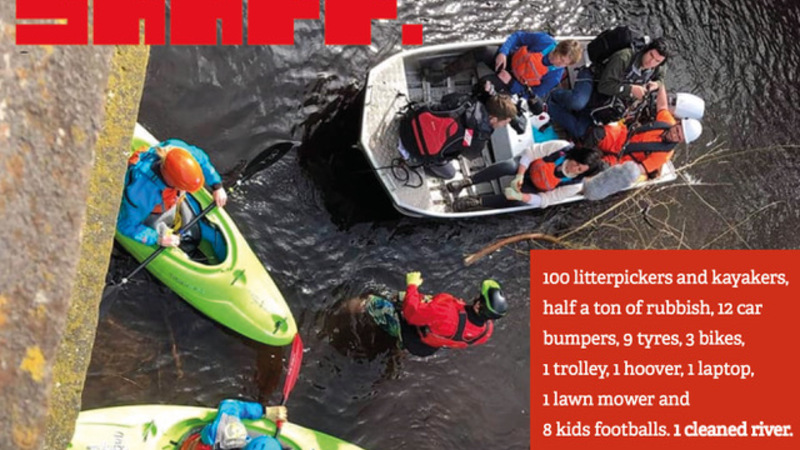 About
This year the ShAFF team, led by ShAFF's Sustainability and Activation Advocate Jane Campbell, designed a festival programme to empower people to gets hands on like never before and pay back the dirt. We're so proud of all of you who got stuck in - look what you achieved!
🌍 The BMC launched their new Hills to Oceans campaign at the festival, which aims to remove mountains of litter from Britain's peaks and prevent it from entering the oceans in the process. 
🌍 Half a ton of rubbish was removed from the river Don by around 100 kayakers and litterpickers at the Great Sheffield River Clean-up, organised by The River Stewardship Company - including 12 car bumpers, 3 bikes, 9 tyres, a trolley, a hoover, a laptop, a lawnmower and 8 kids footballs. You can watch the kayaking action on The One Show (scroll to 21 mins).
🌍 An amazing 50 items of clothing were kept out of landfill and mended by the Patagonia team in their Repair Wear van, not to mention all the kit rehomed via Scavenger's second hand kit sale.
🌍 Dozens of people learnt to buy and care for their adventure kit in a more sustainable way thanks to Decathlon, Buffalo Systems and Recycle Bikes.
🌍 Plogging kids litter-picked Porter Brook pocket park with Roger the Remote Controlled Wheelie Bin and Runners Against Rubbish.
🌍 A Trash Free Trails and Ride Sheffield Trash Mob cleaned up Brown Street plaza after honing their mountain-biking skills with Trail Advantage.
🌍 GoodGym runners handed out leaflets for a local community project in the Gleadless Valley.
🌍 Friends of the Earth and People and Planet made some beautiful banners for next week's anti-fracking FrAcktion festival.
🌍 The ShAFF Outpost hosted the largest display to date of eco-bricks in the UK and was dressed entirely in reclaimed materials thanks to Strip the Willow
🌍 30 inspired adults and children told us their next step #planetpledges which we'll be supporting over time.
🌍 We were also really pleased to hear Decathlon's Head of Sustainability lead a rallying cry for big adventure brands to 'be brave enough to not just sell more every year'.
We're also working hard behind the scenes to be more sustainable as a festival - we have cut down our printing, trialled a reusable cup campaign and introduced a couch sharing scheme. We know we can still do better - tell us how!
And that's on top of all the inspiring adventure activism films and speakers we heard from! 💪🌍