Article
Building A Festival Website
The story of the ShAFF website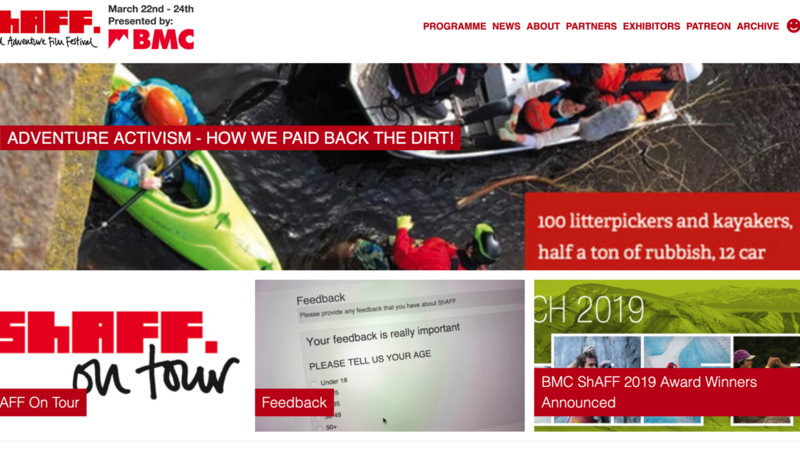 About
The People's Choice Award at a film festival should be seen as the holy grail of awards to win. There can't be many filmmakers who don't appreciate the direct endorsement from their audience that they have enjoyed their film. One thing I love about running a festival is when visiting filmmakers attend the event and leave the screening of their film blown away by the audience reaction. The People's Choice is an extension of that audience reaction. However it is more than often under-valued as it is open to abuse, with enthusiastic filmmakers lobbying festival goers, and in some cases where online voting has been used, remote supporters, to bolster their standings.
Years ago at ShAFF we decided against soliciting a vote for a favourite film from the audience. There were simply too many variables which undermined its veracity. A voter may have only watched a single film so how could they legitimately vote that it was their favourite one of the whole programme, and it was open to bias. So we introduced a paper form listing ALL of the films at the festival, and asked the audience to score each film they had watched out of 10. This was a big step and turned it into a mathematical process, making it much fairer to compare one film with another. It was a time consuming process transcribing the scores, but ultimately gave us a great platform for the next step.
That next step was to make the process electronic. We teamed up with Sheffield-based Beautiful Everything, a small group of consultants, specialising in strategy, research, user centric design and technology, and between us, built a complete new platform for the festival called Boom Beam. It turned out to be one of those projects that quickly spiraled into something much bigger and more exciting that the original brief. We realised that to introduce an electronic voting form would require individual film records. In implementing these film records it became evident that these are the currency which could drive the whole festival website. So the overhaul began. First up was to create an automated entry system that allows filmmakers complete control over their entry at the same time as automatically populating the website with its own lifeblood. The website now effectively builds itself as filmmakers submit their entries!
Films and audiences are the mainstay of a festival, but there are other key elements too, namely Partners. Broadly speaking these include people - judges, presenters, volunteers and ambassadors, and organisations - sponsors, funders, charities and other organisations. So these were factored into the structure of the site too. In all cases it was important to give control of pages to the third parties themselves, again so that we weren't tasked with the massive administrative task of maintaining the hundreds of pages, but equally importantly, involving others in the process, empowering them, and letting the website speak with a multitude of voices rather than our just our own.
The third component to build was a time / date / location driven module which would allow for the creation and display of everything from news bulletins to screenings and special events.
Once these elements were in place - I say that as if it were a simple task, but the reality is it has been an ongoing process of nearly 4 years with almost weekly tweaks and improvements - there was the not insignificant task of linking, cross referencing, labeling, reporting, filtering and displaying the information in an easily digestible form.
Visitors to the festival website can glance at an overall time-driven programme of exactly what's on, but quickly filter what is admittedly a mind-boggling array of screenings and events into something to suit their tastes, budget or timescale.
For months leading up to the festival our judges use their own control panels on the site to rate, link and comment on the films, giving direct feedback to visitors to the site via the public site.
Once the festival kicks in, the presenters and volunteers have their own control panels to keep tabs on where they need to be when, which films have visiting filmmakers attending which sessions, which are premiering etc. Sponsors, exhibitors and filmmakers can make on-the-fly updates to their pages.
And most importantly, completing the story, the audience are asked to score the films they have just watched. They are encouraged, by way of prize incentives to be collected from the exhibitor, which also drives increased footfall into the exhibitors area. This mechanism has been so successful that in 2019 we had 60% of the people watching the films engage with the platform! This is significantly higher than our old paper based system, and 4-5 times the national average for a customer survey. Each audience member is presented with a ticket as they enter a session. Each ticket has a unique code printed on it as well as a discount code for a local eatery which experiences its highest volume of sales on ShAFF weekend annually. Any tickets not handed out are automatically re-cycled for the next screening. After the screening the audience member types their code into the website on the appropriate page, to be presented with a list of the films they have just watched. The list is illustrated with an image from the film to help remember which film was which. Each film is scored out of 10. On completion of the scoring they are then presented with recommended further screening based on their likes and dislikes, and invited to complete a feedback survey about the festival. If they won a prize they are notified automatically about when and where to collect it. By the end of the festival we have generated a wealth of useful information on which films the People liked, and importantly which ones they weren't so keen on. We discount anomalous voting - instances where somebody has voted one film highly and all others poorly (we're confident that all the films in the festival are there on merit so if somebody is marking them down then that counts as suspicious behaviour). It's not possible to ask supporters to vote for your film as only those people who were in a screening can vote on them (of course it is possible that a filmmaker has rallied a load of friends and family to come to a screening, and that they then vote for that film, but we accept that). We can also discount scores which simply don't receive enough votes, and apply a 'votes per session' threshold to further strengthen the final scores. Essentially it's about as secure and indicative of the audience perception as it is possible to get.
It's been a fantastic journey, and one that I am sure is not yet finished. There are still plans and improvements to make. If you've got any thoughts, or you run a festival and would like to talk to the guys about implementing it at your event then please drop us a line.