Film
Fuse
A Visual experiment mixing Light with White-Water and Kayaking with Night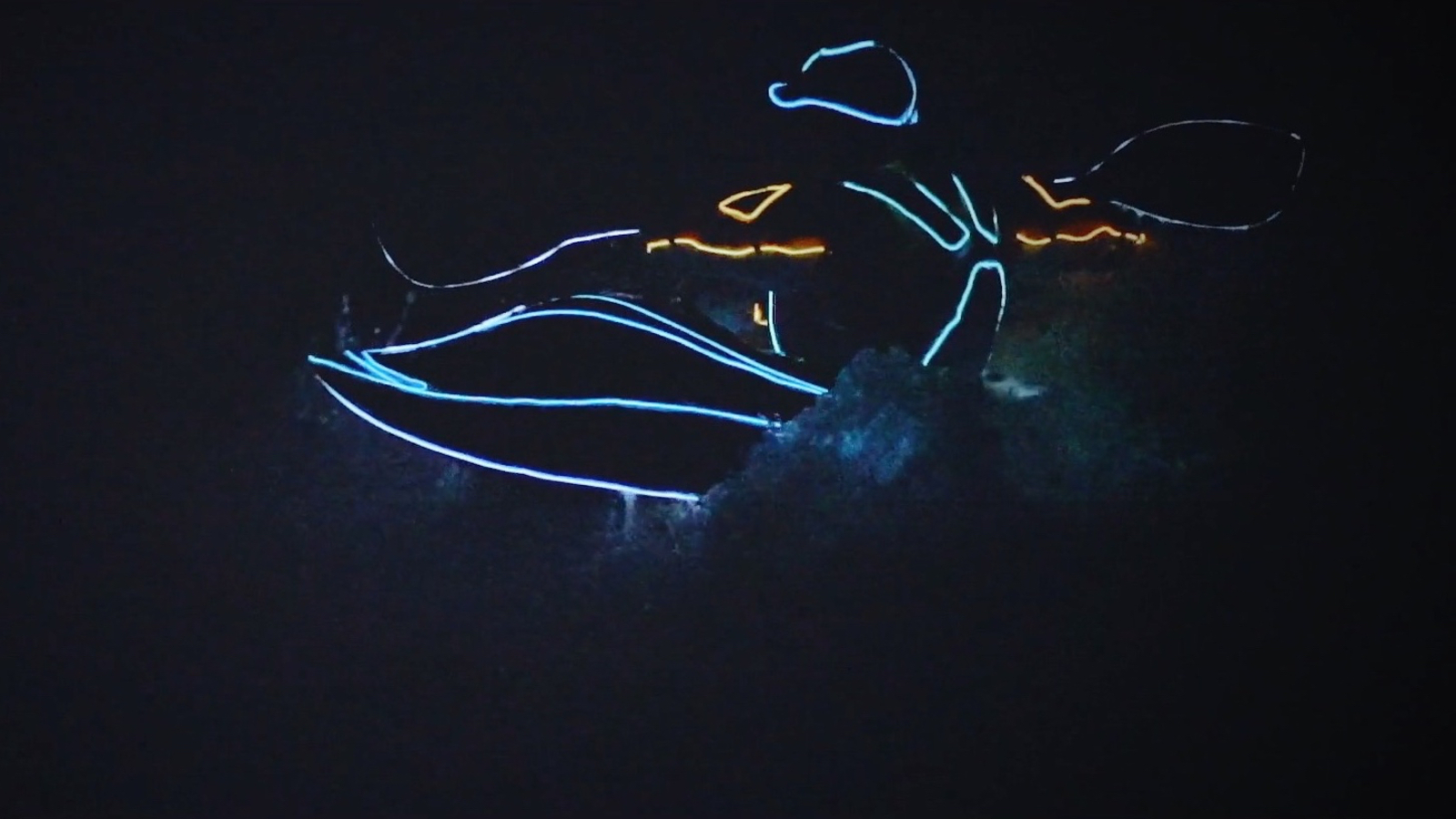 About
Sponsor
Palm Equipment Europe, EL Wirecraft, Wavesport, Robson Paddles, Pringle Media
Freestyle kayaking is a gymnastic discipline of kayaking where the aim is to rotate the boat, flip and spin the kayak around in all axis in order to score points. When huge waves are involved it's exciting to watch the best in the world get huge 360 rotations and get feet or 'air' bouncing their boats on big waves. On smaller features it becomes a far more technical and precise sport requiring extremely strong core-muscles and hours of practice to get the kayaks rotating smoothly and in control, rather than it looking like the water is just throwing you about. I've been a kayaker for 12 years now and in that time I've photographed and filmed from almost every angle from my local spot, I've always enjoyed doing dusk/night photography with blurry water and bringing an element of control through lighting can really make an old place feel completely new.
A few years ago, I had this crazy idea of trying to film a freestyle kayak at night, with lights illuminating the boat and the kayaker. I spent a long time trying to work out how to do this, I knew using LED wire was going to be expensive and add too much weight to the boat, especially with big dangerous batteries, my main concern was not to electrocute anyone! As soon as I discovered Electro-luminescent wire I knew this was the stuff that I wanted to use to film with. There really was only one person I knew who was consistent enough at freestyle kayaking to be able to pull off all the moves at night. I asked GB-team Freestyler and at the time ranked 5th in the World whether he would be able to do all the tricks he knew with his eyes closed, to which he said "of course", so I told him to get practicing and went about devising a plan.
I ordered a small pack of sample EL wire and went met up late one evening, and using some transparent gaffa tape which was also waterproof, we taped some wire down on the boat and wrapped the batteries inside a dry-bag and set Alan out onto the water to test out how much light we could see reflected on the water. It quickly became evident that we were going to be pushing the limits of what camera technology at the time were capable of filming, I was confident that with more of the wire and some better lenses we would be able to film more. Alan tried a big trick on the wave and knocked the batteries out, after 10 seconds of footage I knew it was possible.
Alan's Wavesport kayak has really nice design lines on it which were the obvious shape and forms to follow. We measure out all the distances we'd need and ordered enough for the boat, paddle, helmet, drytop and PFD. We sent a portion off to the nice guys at Palm Equipment Europe who proceeded to make a dry-top and PFD with the wire sewn in. Whilst they were doing this myself and my technical wire expert Dan Crowley spent hours with rolls of gaffa tape working out how to lay the lines out to be symmetrical and equally distributed between the 3 battery packs we used. Batteries were securely fastened this time in a tupperware tub with a hole for the wire sealed up. We took our new illuminated kayak and paddle out for a test drive and under a 3/4 moon we were delighted with our test footage.
The next weekend we had our dry-top and PFD and helmet finished, the temperature had dropped 15 degrees and the full moon didn't come up from behind the trees. We soon discovered the temperamental nature of EL wire and had some emergency repairs to do just before we started filming. My friend and also a world-champion freestyle kayaker himself brought his Sony FS700 camera along so we could record slow-motion replays and at high sensitivities. At 1am we got off the water, cold and with half the boat's lights off we had learned a lot of lessons but had got the results we were after.