Article
Strong Women - Wendy Searle reviews Lhotse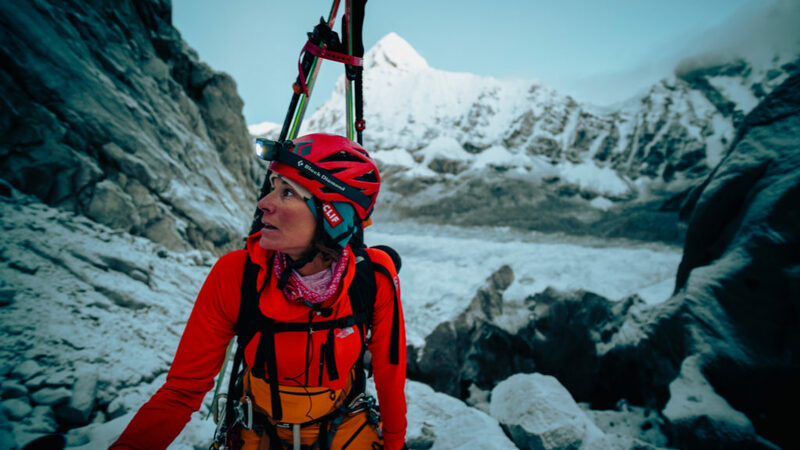 About
Explorer Wendy Searle reviews Lhotse, starring mountaineer Hilaree Nelson
The fourth-tallest peak in the world, Lhotse sits in the Himalayas, right next to Everest. We watch Hilaree and Jim trek to Everest Base Camp, and then almost the same route to the world's tallest peak – negotiating the famously perilous Khumbu Icefall before breaking off to Lhotse.
The Sherpas who help the team negotiate much of the route are given both air time and appropriate credit for their contribution to the mission.
Hilaree and Jim are a couple as well as climbing partners – tragedy brought them together after Jim lost his wife and two children in a plane crash. As a mother who's spent many weeks away from my children while on expedition in places full of risk, I identified with Hilaree, also a mum. On risk, Hilaree says in the film 'you have to take risks if you want to learn anything about yourself.' And on motherhood; 'They see me as a passionate person, not just a mom.'
As they inch their way up to 8,000m, the film is as you'd expect from North Face athletes - slick, beautifully shot and with commentary from both the subjects and fellow director Jimmy Chin. At 8,000m, you 'only deteriorate….. it's so much about mental fortitude at that point.' The struggle is well-portrayed as they ascend – one exhausting step at a time.
Lhotse itself is as much a character in the film as the people – cool graphics showing the route merge with panoramic footage of one of the most stunning places on Earth. The expedition takes place in the autumn, outside of the usual climbing season, and the feeling of isolation in that vast landscape comes across.
I'm fortunate enough to know Hilaree, Jim and Jimmy, although when I met them at a remote logistics base in Antarctica, I had no idea they had done this journey – and they were so down to Earth I would never have known if I hadn't been reviewing this film. They're not about the Instagram likes or the fame, they're truly about the mountains and the experience. Jim said 'the universe grants you a moment and you take it.'
There's so much this film says, not just about a highly-skilled, dangerous journey, but also about adventure as a mother, or life as a human. And that's what the mountains can do for you – in 20 short minutes, you're transported to a place of possibility. I'd have liked it to be longer if anything – it was so rich with lessons we can all learn from expeditions, with snapshots of the culture of the area, with hints of their on personal journeys, I could have got lost in it for hours.
5/5 – but of course, I would say that.
Wendy Searle describes herself as 'an ordinary mum who wanted to see if the extraordinary was possible'. With no experience, no money and no time, she began a five-year journey which led her to the South Pole. In January 2020, Wendy became only the seventh woman in history to ski solo, unsupported and unassisted from Hercules Inlet to Pole, in just 42 days. Find out more at @betweensnowandsky and Southpole2020.com. 
Lhotse is screening as part of Mountain Films 1 on Saturday at 9:15pm and Sunday at 6:15pm. For a taste of what it's all about, watch the trailer here.