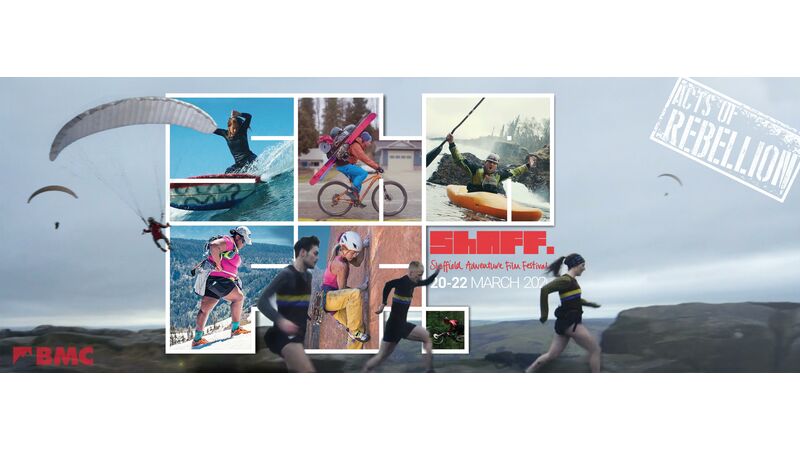 About
Why ShAFF?
ShAFF is the largest urban adventure film festival in the UK, and the only one put on in a city with a national park within its limits. This amazing setting, where most of the ShAFF team live, work and play, is the reason we do what we do. It inspired us to put on an event that, once a year, bring tribes of people together to celebrate the outdoor life and the adventures it offers.
We put ShAFF on in March every year, when we're all coming out of hibernation and waking up to the exciting possibilities of the year ahead. We want to seize this moment to invigorate and inspire you with the best new adventure films from around the world, showing off everything the outdoors has to offer.
Our Mission
We hope that ShAFF inspires you to:
Get outside and do stuff, take risks and seek adventure
Fall in love with the incredible natural world we live in
Reflect on the adventures you have had, and what they give to you
Find kinship in the shared ShAFF experience, with people who love to adventure outdoors
Take action to protect the places you love, and make them better for the future.
This mission is at the heart of what we do, and we want it to be reflected in every film, speaker and event. If it doesn't for you, we want to know about it.
The last one on the list is especially important to us. In 2019 we launched ShAFF's adventure activism programme, and showcased experiences, adventures and skills which inspired us all to take a stand for the planet. You told us that it brought a new buzz of the possible to ShAFF, so we're running with it. Since then, the world has changed in many ways, and in others, simply not fast enough. So this year, we're bringing environmental action into the core of what we do, and introducing a new theme too.
Our pledge to the planet in 2020 - and beyond
We are all facing a changing world - and here at ShAFF we're genuinely and humbly trying to do our very best in a climate that demands that we challenge ourselves and our preconceptions to the max. In 2019, we cut back our printed programmes to a handful of small fliers, we dressed the venue using reclaimed materials and we introduced a reusable cup scheme at our venue for the first time. That's good, but we can do much more. So, in 2020, we will
Introduce an ethical film stamp. ShAFF has a history of breaking new ground, first with our Women in Adventure programme and more recently with our Adventure Activism platform. This year, we're teaming up with filmmakers at our Film Summit to showcase what the industry can do to protect and enhance the landscapes they portray. We'll be releasing more details along with the ShAFF 2020 programme in January.
Source local. We have always been committed to celebrating all the incredible adventure talent our region and country have to offer. As much as possible, we will continue to work with local businesses and sponsors, and employ a mainly local festival team.
Help our audience cut their travel footprint. Whilst we'd love people to flock to the festival from all corners of the UK, we respect that fact that folk now want to travel less, so we're developing ShAFF On Tour and aiming for 50 venues in 2020. We'll also be sharing ways you can reach the festival more sustainably too.
Support and inform sustainable consumer choices. Whether that's reusing and repairing, choosing recycled products, or understanding how products are sourced, we'll work with the outdoor industry to help inform you to make sustainable and planet healthy consumer choices.
Promote a repair culture. New for 2020 will be a ShAFF Repair Cafe, brought you by the hands-on folk at Alpkit, giving you a marketplace for repairing all kinds of adventure kit.
Take hands-on action. We're introducing a Rebel Raids event series at ShAFF 2020. Come up for air from watching your favourite adventure films at the Showroom and head out for a quick blast of environmental action on the streets of Sheffield.
Learn for the future. We'll be working with all our festival partners this year to create an eco-guide for exhibitors and event organisers in the outdoors industry to use in the future.
Our new theme for 2020: Acts of Rebellion
As adventurers, we all push the limits, challenge the norm and redefine the meaning of brave. We've led the way many times and we're anything but mundane. This year, ShAFF wants to inspire you to find the rebel in yourself, to think outside the box, and come together with your tribe to re-shape the world for the better. For the love of the land that feeds our adventures, and for the love of the people we adventure with. How will you use your adventurous skills and spirit - and what will your act of rebellion be?