Film
Piano to Zanskar
A story of a man, a mountain... and a piano.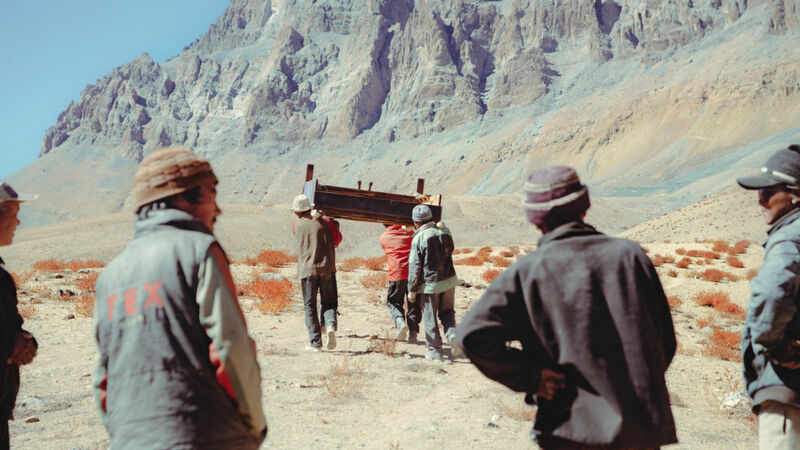 About
Country / Nationality
United Kingdom
Our Judges say:
Weird and beautiful! A quirky group of non-adventurers find themselves on a mountainous journey with a musical payoff. One of the films of the festival, you need to watch it!

Anna Paxton
Something different, something fantastic. So much to uncover around our protagonists and may layers of interest. Beautiful recorded and mixed. An authentic must see at this year's festival.

Ed Birch Director of Salt-Street productions
Go and watch, listen, feel. Absorbing.

Claire Carter Writer, Film Officer for Kendal Mountain Festival, 'Creative Consultant'.
Facing his future in retirement, "sitting in deck chairs and eating lemon drizzle cake", 65 year old piano tuner, Desmond O'Keeffe, decides instead to take on the most challenging and perilous delivery of his four decade career: transporting a 100 year-old, 80 kilo, Broadwood and Sons upright piano, from bustling London to the remote heart of the Indian Himalayas. Setting off from his Aladdin's Cave-like workshop in trendy Camden Town, and enlisting the help of two young and eager apprentices, Desmond's ambitious destination is a primary school in Lingshed, Zanskar. At 14,000 feet above sea level, it is one of the most isolated settlements in the world. Aided by a team of local Sherpas, as well as a motley crew of yaks and ponies, Desmond and his trusty assistants are tested to the limit, physically and psychologically, as they cross sheer mountain passes of breath-taking beauty. If successful, the expedition will be the highest piano delivery in the world. More importantly, it will be the ultimate gesture of music's universal power: to inspire strength and bring joy. Features an original music score by Werner Herzog collaborator, Ernst Reijseger ('Cave of Forgotten Dreams')