Article
Sheffield Filmmakers put the Sheff into ShAFF
Putting the Sheff into ShAFF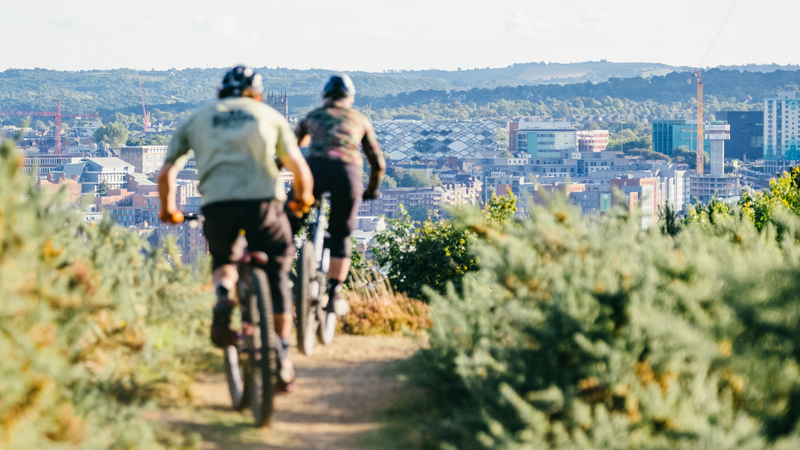 About
There's a reason Sheffield Adventure Film Festival exists. Sheffield is home to so many adventurers, and where adventurers congregate, creativity blossoms. The outdoor filmmaking industry is arguably stronger here than anywhere else in the UK. So at a time when staying local is key but sharing globally is possible, we thought we'd publish this list of ShAFF films Made in Sheffield and shout them from The Outdoor City's rooftops.
There's always a buzz of excitement in the air at Our Made in Sheffield session as we get together at ShAFF to celebrate our local filmmakers. This list of 40 Made in Sheffield films is drawn from those sessions and includes some of Sheffield's best known filmmakers. Production companies like Coldhouse, Salt Street, Puzzleglass and Steel City Media who call Sheffield their home have been recognised by film festivals around the world. 
Many of the films feature local athletes taking on world-class challenges in the Peak District and beyond, such as runner Nicky Spinks, climber Pete Whittaker, and highliner Sarah Rixham. They join ranks with the likes of Joe Simpson, one of Sheffield's most well-known mountaineers, who has spoken at ShAFF in the past as we screened Touching The Void. But what makes this category even more special are the local films that paint a vivid picture of the strength and depth of the outdoor community in Sheffield, as Beauties and the Bog take on the iconic High Peak Marathon, cyclists face The Mam Nick Hill Climb, and young climber Clare finds freedom within her disability in Reach. 
Emma Crome, Producer at Coldhouse describes the importance of location to the company. "Our film 'The Dark Peak Fell Runners' documents an eccentric local fell running club - the whole film was produced on our doorstep and proves you don't have to travel to far-flung places to find stories of significance in the world of adventure. The purpose of our film and photography is to connect people to outdoor adventure, recreation and nature, in a way that is both honest and inspiring. Sheffield and the Peak District have been our home from our inception back in 2014 and the Peak District is the perfect backdrop for our work and play."
Coldhouse are proud to support a local environmental initiative, Moors For The Future, who are working to restore the uplands of the Pennines. They first discovered Moors For The Future at a ShAFF event, and now donate 1% of their annual turnover to Moors For The Future through their membership with 1% for the Planet. Emma says "It's a wonderful example of ShAFF connecting people, businesses and NGOs to important ideas that have a far-reaching impact. Over the years ShAFF has supported our cause and showcased our films, and it's always a joy to collaborate with a local festival that encapsulates the same values." Coldhouse films in the Made in Sheffield list include: The Place of the Gaels, Every Few Winters, and Janhukot.
Filmmaker Sam of Puzzleglass explains that Sheffield is a pretty perfect place for those with a love of the outdoors. "Accessing green and rocky spaces is easy for all of us, with a huge amount of options for outdoor sports from the hair-raising to the serene. It's a natural fit for an adventure film festival such as SHAFF, which brings members of the outdoor sports community once a year, to watch films, have a drink and plan the next adventure."
"As filmmakers we have always enjoyed the festival immensely and have found it inspiring and educational. Being exposed to the best the world of outdoor cinema has to offer makes you up your game and provides amazing opportunities to meet other filmmakers and adventurers. 'Voyager' was our first film featured in ShAFF and it was shot in the Peak District, with characters we met in Sheffield. Being based on the edge of a national park makes it easy to meet interesting people and discover inspiring stories of the outdoors." Puzzleglass have three films in the Made in Sheffield list: Voyager, Blocbuster, and Dave Goes West.
Salt Street was established by Director Ed Birch while he was studying at Sheffield Hallam University. Ed says "Salt Street believes there's just as much adventure to be found in the urban environment, and Sheffield has it all." Their first viral film, Red Run was set in the remains of Sheffield's burnt-out ski village, now set to be redeveloped as a hub for adventure sports. Low Line took that adventurous spirit underground, featuring wakeboarding in the 'Megatron', the Victorian underground tunnels which have since been opened up to members of the public for guided tours. The film was even screened underground in a special ShAFF Urban Caving session. Ed is now a Judge at ShAFF, having produced the trailer from 2016-2018. Salt Street films in the Made in Sheffield list include: Red Run, Low Line, and Britain's Abandoned Playgrounds. 
The latest generation of filmmakers are building on the foundations laid by Rich Heap and Ben Pritchard. Back in 1998 they released Hard Grit, the seminal and cult climbing film which resulted in Slackjaw, who then went on to produce a series of acclaimed climbing films. Both have continued to forge a career in adventure film making with Rich Heap recently moving into the mainstream, releasing family feature film The Runaways. Local filmmakers also owe a lot to the brands and sponsors that commission films based in the Peak, notably The Outdoor City, BMCTV, and UKClimbing, along with Moon Climbing and Pannier.
Every year ShAFF hosts an all-day session for current and aspiring filmmakers, run by Paul Diffley of Hotaches Productions (Wide Boyz, The Long Hope, among many others). Supported by our sponsors and Friends of ShAFF Patrons, it's free for filmmakers to attend and past events have proved fruitful. At one of the first ever ShAFF Industry Hangouts Rich Heap met Nicky Spinks and went on to make an award winning film about her Bob Graham mountain run. Each year ShAFF will give an Adventure Award to a young filmmaker based on donations from our Patrons, and although the event is postponed for 2020, we hope to see many more upcoming filmmakers there in 2021.
Buffalo Systems are proud to be made in Sheffield, and sponsor our Made in Sheffield sessions. Browse the Made in Sheffield playlist.