Film
Wonderful Losers: A Different World
The first-time in over 40 years, an independent-filmmaker outside of the broadcast networks who has been allowed to film behind the scenes an exclusive insider look at the notorious and celebrated Giro d'Italia.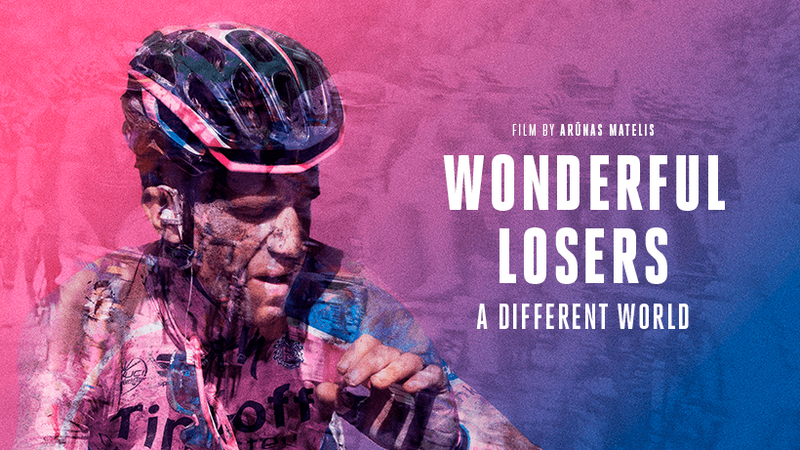 About
Country / Nationality
Lithuania
Our Judges say:
Anyone with an interest in pro cycling needs to see this unique insider's view of the peloton.

Anna Paxton
A fantastic documentary of a flip side to a sport with many secrets.

Claire Carter Writer, Film Officer for Kendal Mountain Festival, 'Creative Consultant'.
Director's Guild of America Award-winning director Arūnas Matelis ("Before Flying Back to the Earth") new documentary feature WONDERFUL LOSERS: A DIFFERENT WORLD, one of the most awarded films of 2017 with 17 international awards in its account This is the first-time in over 40 years, an independent-filmmaker outside of the broadcast networks who has been allowed to film behind the scenes an exclusive insider look at the notorious and celebrated Italian Grand Tour Cycling race Giro d'Italia. Filmed over several years, Arūnas Matelis and his crew joined the medic teams to reveal the unseen footage of the riders at the back of the race - the so-called "water carriers," "domestiques," "Gregarios" - who forego their careers and personal victories for the sake of victory for their leader. Its heroes are athletes undertaking the most difficult challenges, while remaining in the shadow of leaders, without the right to personal victory. Through their sacrifice, they pave the way to victory for the band's stars, becoming a universal symbol of sacrifice. Director and screenwriter: Arunas Matelis Script researcher and consultant: Edita Pucinskaite  Cinematographers: Mark Olexa, Ivars Zviedris, Simone Rivoire, Giordano Bianchi, Valdis Celmins, Audrius Kemezys, Giacomo Becherini, Paolo Beniti, Vincent O'Callaghan, Arunas Matelis, Jose Luis González Editing: Mirjam Jegorov Composer: Alberto R. Lucendo  Sound: Raf Enkels  Producers: Arunas Matelis, Algimante Mateliene for Studio Nominum (Lithuania)  Co-producers: Elena Filippini & Stefano Tealdi & Edoardo Fracchia for Stefilm (Italy), Mark Olexa & Francesca Scalisi for DOK Mobile (Switzerland), Uldis Cekulis for VFS Films (Latvia), Bram Crols & Mark Daems for Associate Directors (Belgium), Deaglan O Mochain for Dearcan Media (N. Ireland/UK), Jeremiah Cullinane for Planet Korda Pictures (Ireland), Rafa Molés, Patricia Velert, Pepe Andreu for SUICAFilms (Spain)