About
Read what makes ShAFF ShAFF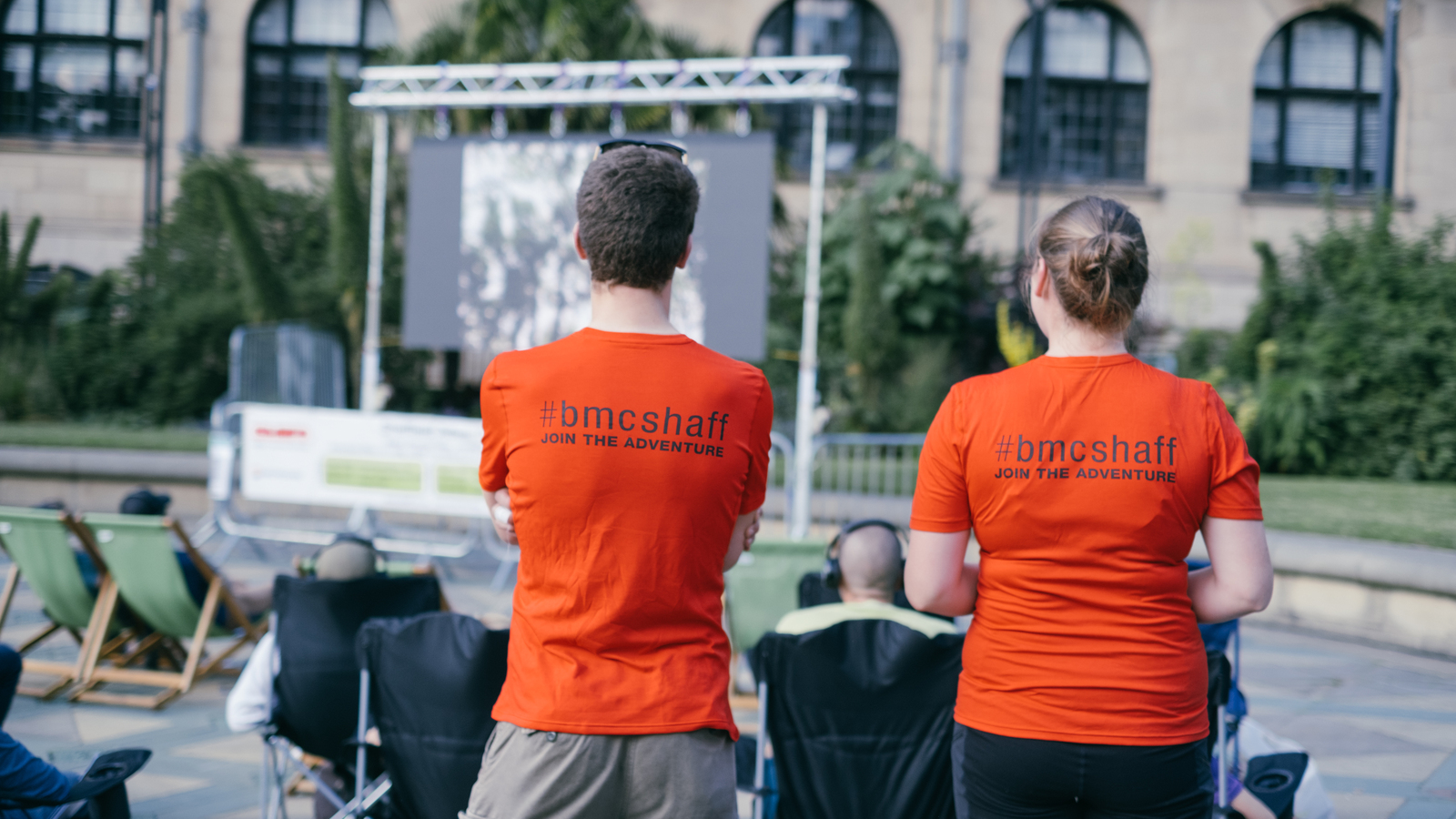 About
More than 100 of the best new adventure, travel and extreme sports films from around the world at Showroom Cinema, Sheffield
ON THE BIG SCREEN IN THE HEART OF THE OUTDOOR CITY
Sheffield Adventure Film Festival has a well earned reputation for being a friendly festival, welcoming everyone whether you're an outdoors enthusiast or an armchair adventurer who just loves a good story.
As well as watching films, you can share a ShAFF beer with adventure sports athletes and filmmakers in the bar, check out the exhibitors area in the Outpost, take inspiration from our free talks or get involved in a range of outdoor activities. And that's just ShAFF. Since Sheffield re-branded itself a few years ago as The Outdoor City, the The Outdoor City Weekender has become the UK's biggest weekend on the outdoor calendar boasting ShAFF, the Climbing Works International Festival (one of the biggest bouldering competitions in the world), The Magnificent 7 (a road cycling race taking in 7 of Sheffield's toughest hills), The Howard Street Dual (mountain bikes racing two at a time through Sheffield City Centre) and plenty more besides. 
Each summer festival founder and director Matt Heason starts watching the hundreds and hundreds of films which are submitted to ShAFF. It's a labour of love. Around one hundred make the Official Selection each year. Matt's more than happy to give feedback on any films that don't make the final cut. We're particularly keen to bring new and diverse talent to the screen and to increase the representation of women in front of and behind the camera. We are keen to work with and find opportunities for young up-and-coming directors, producers, and local filmmakers and photographers. 
We publish the official programme in January and unlike most other festivals we announce the winners the week before the festival. We want to give the audience the chance to see if they agree with our panel of judges. We do this with a cutting edge scoring system which people can use immediately after their film sessions have ended.
Great value - One ticket buys you a multi-film screening so you can see several films in one hit. Passionate about your sport? Then try our specialist selections. Want a high energy hit? Then book our Adrenaline showing. Fancy inspiration and escapism? Go for 'Sprit of Adventure'. There's also our Adventure Bites session, a highly discounted hour long loop of films which you can dip into at any time of the weekend to get a taster of what it's all about.
Family friendly - our Young Adventurer showings sell out, and we now certificate the whole programme which has made it much more friendly to under 18s.
Getting here's easy - We encourage all our visitors to travel sustainably using public transport or human power. We're just across the road from the mainline train station with regular services to the Peak District, Manchester, and all over the UK. There are plenty of local buses, trams and nearby car-parks. If you arrive by bike, you can store it securely at the train station by purchasing a fob from Russell's Bicyle Shed (also located at the station).