Article
ShAFF Mission Statement
Our Mission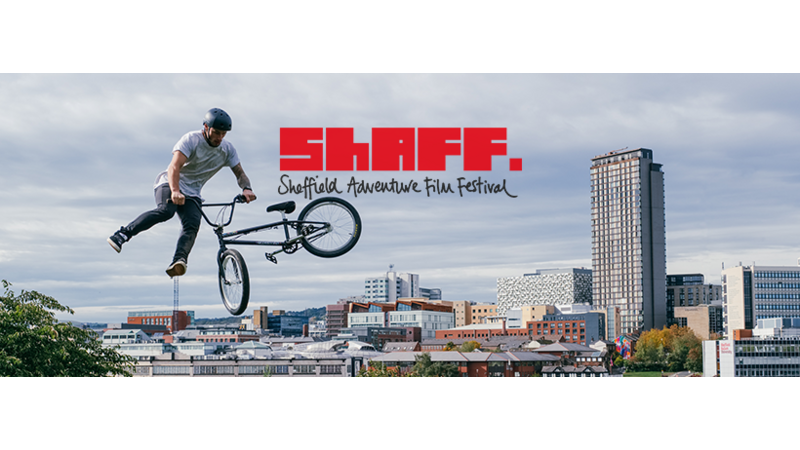 About
SHEFFIELD ADVENTURE FILM FESTIVAL
OUR MISSION
To hold an annual festival and year-round programme of events that celebrate the best new adventure films from around the world, with the aim of inspiring the ShAFF community to seek their own adventures, challenge themselves and take action to protect the environments we adventure in.
Our mission is at the heart of what we do, and is reflected in every film, speaker, and event.
OUR AIMS
ADVENTURE Through skilful curation of the the best new adventure films from around the world, to take our audiences on an adventurous journey that leaves them inspired and ready to take action.
COMMUNITY To find kinship through shared experience and forge links between the communities that make up ShAFF.
ACTIVATION To push beyond inspiration and activate our audience to get outside, seek adventure and challenge themselves.
SUSTAINABILITY To instill respect for the environments and places we adventure in, and inspire action to protect them so that they are around for future generations to enjoy.
WHO WE ARE
With its unique combination of people and place, Sheffield has shaped our character. Our home is a city with a national park within its boundaries, a heritage of rebellion, access to wild places, and world class outdoor sports. We are friendly, independent, gritty, resilient, proud and optimistic.
WHAT ADVENTURE MEANS TO US
Adventure means human endeavour outdoors and commitment in the face of the unknown. Rock, mountain, water, air, adventurers are not afraid to take on a challenge. Alongside the adrenaline there is room for reflection, as adventurers we respect the people we adventure with and the environments we adventure in.
THE FILMS WE FEATURE
We scour the world for the best new adventure films and curate them into programmes that are surprising, energetic, challenging and uplifting. From one minute long to feature length, the films we choose reflect the diversity of the outdoor experience, giving a window into other places, people, and perspectives as well as our own. Adventures include ocean crossings, mountain climbing, high adrenaline and big tricks, alongside quieter moments of contemplation and unexpected discoveries. Filmmakers are valued members of our community, we celebrate their achievements and nurture their talents.
OUR EVENTS
At ShAFF events, whether in the cinema, outdoors or online, there's a buzz in the air that we only get when we get together. The ShAFF community includes our audiences old and new, filmmakers, sponsors and partners, athletes, and the ShAFF team. Everyone is welcome, and everyone should leave feeling energised and inspired.
FRIENDS OF SHAFF PATREON SCHEME
Friends Of ShAFF allows loyal supporters of the festival to commit to a small monthly payment all year round in exchange for discounts, tickets and other rewards. Launched in 2019, we now have nearly 50 Friends of ShAFF, and their support has been vital in keeping the festival going during the Coronavirus crisis.
The purpose of the scheme is to fund a programme of schools outreach sessions in Sheffield, and we have already presented to over 1,500 school pupils across the city. We haven't lost sight of that and we're looking forward to finding new ways to inspire Sheffield's young people into a love of outdoor adventure. Find out more and become a Friend Of ShAFF here.
DIVERSITY
Everyone is welcome at Sheffield Adventure Film Festival. We support an outdoor environment that is inclusive of all people. We are committed to creating a festival and events that reflect the diversity of the outdoor experience, in our programming and in our team, volunteers, and audiences. We welcome adventure films made by and featuring talented professionals from all race, age, color, religion, sexual orientation, gender and gender identity, and physical or mental ability.
SUSTAINABILITY - OUR PLEDGE TO THE PLANET
We have introduced an ethical film stamp to inform our film selection and help our audience understand the environmental impact of the films they are watching.
We source local. Wherever possible we will work with local partners, sponsors and suppliers, and employ a mainly local festival team.
We encourage sustainable travel. Wherever possible we will choose locations in Sheffield that are easily accessible by public transport, bike or foot. The 'On Tour' element of the festival will be screened in independent cinemas around the UK (and beyond), so that audiences don't have to travel to experience a ShAFF event. We will no longer encourage filmmakers to fly to the festival, and will use alternatives like livestreaming instead.
We support and promote sustainable consumer choices. Whether that's reusing and repairing, choosing recycled products, or understanding how products are sourced, we will work with our sponsors and partners in the outdoor industry to help inform consumers to make sustainable and planet healthy choices.
We support hands-on action. We select films with a direct call to action, and will equip audiences with the tools to put their inspiration into action, from highlighting local groups, to sharing links, right up to organising our own events. We will promote causes and campaigns that reflect our values.
Published 19 November 2020