Event
The Great Sheffield River Clean-up
Take part in your own real-life activism adventure and help protect the River Don.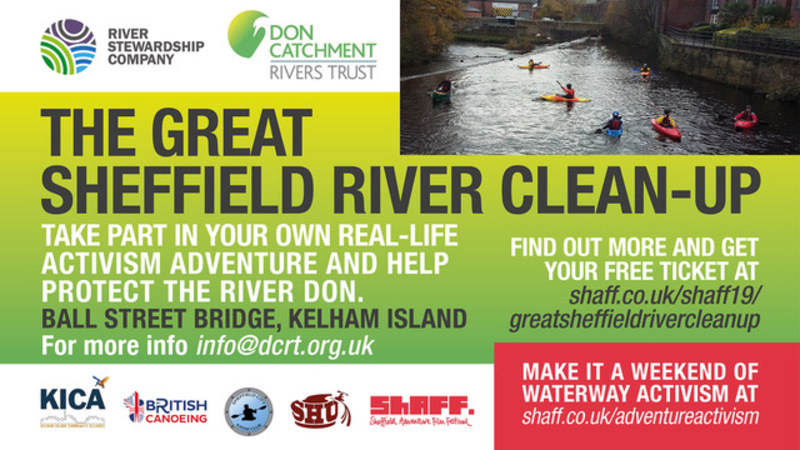 About
Starts
23 Mar '19 | 10:00am
Location
If you have been inspired by ShAFF's Paddle for the Planet screening on Friday 22nd March, why not join the Riverlution for real? The River Stewardship Company and Don Catchment Rivers Trust are hosting the Great Sheffield River Clean-up to take vital action to improve the health of the River Don and protect Sheffield against future flooding - and they need Sheffield's active and adventurous community to help out!
The Great Sheffield River Clean-up will take place on Kelham Island between Ball Street Bridge and the Gardener's rest, with the support of KINCA, Sheffield City Kayak Club, and Sheffield Hallam University Canoe Club, and it's part of the month-long Riverlution Re-connected festival to celebrate the River Stewardship Company's 10 year anniversary and the launch of Riverlution.
There will be something for everyone to take part in on the day: young children can help make a bug hotel, there will be litter picking galore, and if you fancy working up a sweat you can help fish out the odd car bumper, or join the pruning squad. Those who are more adventurous can don waders to head out to retrieve debris off the weir or join one of our trained staff in boats to reach the otherwise inaccessible islands. The canoe clubs will be out on the water too.
Finish the day feeling like a waterway warrior and celebrate with your fellow river rats at ShAFF's second selection of adrenaline-fuelled, water-inspired adventure films (Water Films 1) on Saturday night.
Volunteers of all ages are welcome, but children under 16 must be supervised by a responsible adult and only over 16s will be allowed on the water. Our PPE is probably best for children from around 5/6 years of age. On the day, please register at the Great Sheffield River Clean-up basecamp outside Kelham Island Kitchen. All the protective gear you need will be provided but please bring warm clothes and wear sturdy footwear!
Book your free ticket below - it's open to all but we need to know numbers in advance.