Article
Filmmaker Focus: Hannah Maia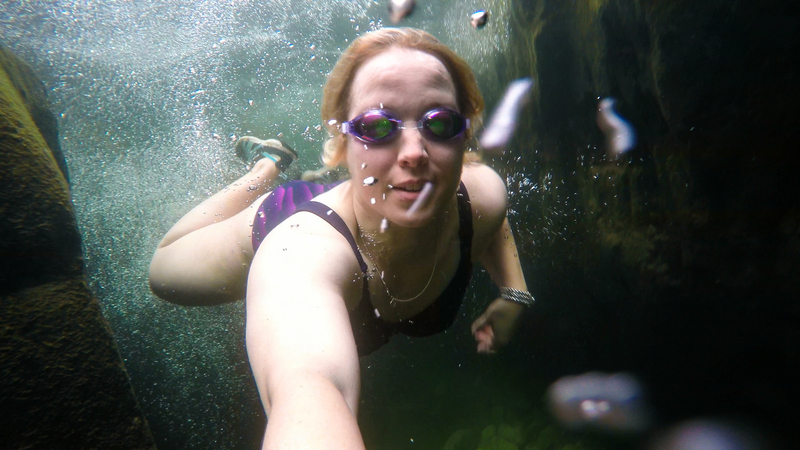 About
Filmmaker Focus: Hannah Maia (Interview from 2022)
Long-time ShAFF audiences will be familiar with Hannah Maia's award winning films, from Megamoon (Best Spirit of Adventure Film 2015), to My Big White Thighs and Me (Gold Award for Best Film 2018) and Wood On Water (2021). This year ShAFF will screen Hanna's brand new film Chilly Dipper. Hannah created the ShAFF 2023 Trailer, and also joins the team as a festival judge. We asked Hannah about her relationship with ShAFF over the years, and what film festivals mean to her as a filmmaker:
When and how did you first become involved in ShAFF? I think it was probably 2010. ShAFF held a smaller short film competition to encourage people with less filmmaking experience to enter. I was doing a lot of mountain biking at the time (this is pre drones) and decided to make a DIY cable cam which I used to film my partner riding down The Beast in the Peak District. It was a lot of fun and I remember securing some kind of prize which was a big boost for me as a filmmaker. It was a good way to get started in my filmmaking journey.
Your multi award-winning films have been screened in festivals around the world. Are festivals important to you as a filmmaker and in what way? Yes, absolutely! Film festivals are so important! And this has been brought home to me all the more with the pandemic. I appreciate the need for a digital platform in today's world but there's nothing like watching your own film (and others) with a live audience - a live screening has its own energy. I'm also quite shy and a terrible 'networker' but throwing yourself into a film festival is a great place to meet people and start conversations. The conversations that arise often lead to the next project or another idea. Plus they are also a great source of inspiration even if I don't have a film showing - they get my creative synapses firing!
As well as making the trailer for ShAFF, you are a judge. What are your impressions of the films this year? I'm proud to be a judge at this years festival. I'm amazed at how busy and creative people have been over the last year or two despite limited international travel. It feels like there are less big expedition stories but in its place are some really creative interpretations. Perhaps more people have been able to persue their passion projects - either way SHAFF 2022 has got something or everyone!
Hannah Maia is a multi award-winning filmmaker based in the Lake District, and director of creative company Maia Media.