Volunteering FAQs
Volunteering - Frequently Asked Questions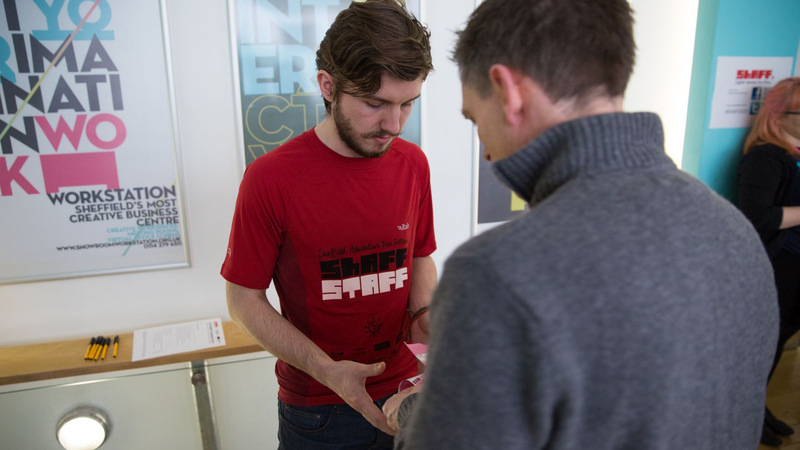 About
Volunteering at ShAFF - Frequently Asked Questions
Who volunteers for ShAFF?
ShAFF always has a wide range of volunteers of all ages - 66 is the current oldest.
Many of our volunteers are keen climbers, runners cyclists etc, however, you do not have to be an extreme sports athlete to help out. We also have volunteers with an interest in film and event management or who just enjoy the festival atmosphere. The main requirement is that you are enthusiastic and happy to get involved with whatever needs doing.
What will I be asked to do if I volunteer?
The majority of roles will involve working 'Front of House' in association with the Showroom staff to make the festival a success. You could be checking tickets, directing guests to the right location, dealing with any festival questions or collecting feedback from our guests. We also like to have a volunteer monitoring each of our film sessions, to ensure they are running smoothly.
Depending on circumstances in any given year, we may also have a requirement for volunteers with some retail or people management experience and volunteer projectionists.
If you are interested in a particular role, please let us know when you fill out the application form. The 'Tell us a bit about yourself' section is really important. Unless you've volunteered before, all we know about you is what you tell us - so if you've got any experience you think may be relevant, please let us know!
Prior to the festival, we could sometimes do with a hand, in particular with publicising the festival. If you're in Sheffield and have your own transport, let us know on the application form.
You will not be asked to do anything you are not comfortable with and for some roles we may follow up your initial application with a telephone call or brief meeting to discuss things in more detail.
How long are the shifts?
The full days of the festival are split into two shifts. For the early shifts, you will probably need to arrive around 9.30am and work through until around 3.30 / 4pm. The late shift will then take over to the end of the day which is usually 11pm at the latest. Don't worry, we will give you time to take breaks and get something to eat!
The Friday opening night will usually require you to arrive around 6pm. However, timings can vary year on year, depending on the festival programme.
Volunteer rewards
We really do appreciate you helping us out. Things can change year on year, but alongside the festival T-shirt, you will be able to attend film sessions and lectures free of charge (subject to there being free space ), when you're not working. In addition, we try wherever possible, to get one or two sponsor freebies and keep a supply of snacks and soft drinks available to keep you going. You will also qualify for the venue's staff discount at the bar.
A couple of important points.
As mentioned above, we do aim to give you free time to take in films, lectures and other activities you may be interested in. However, we cannot guarantee that you will be able to watch specific films/lectures as the needs of running the festival must come first. We will try to be flexible where we can but if you really want to attend a number of specific sessions, you may be better off not applying to volunteer, and visit as a guest.
You will be covered by our Employers' liability insurance, however we do ask that you are aged 18 or over on the first day of the festival.