The People Behind ShAFF
There is an amazing team of people that help make ShAFF happen every year. From volunteers, to judges find out more below about this talented team. If you'd like to get involved in ShAFF (by which we mean doing lots of hard work in return for a free T-shirt), please get in touch, ideally sending a photo of yourself in a silly hat.
ShAFF ambassadors are climbers, bikers, runners and other active folk who live in or near sheffield and who are famous within their circles. Check out the list of ambassadors who have endorsed ShAFF and what it's all about. there are links to their blogs and websites plus a bit of info about each of them. Being an ambassador means tickets to the festival too, so you might well bump into them in the bar.
---
Emily Hewison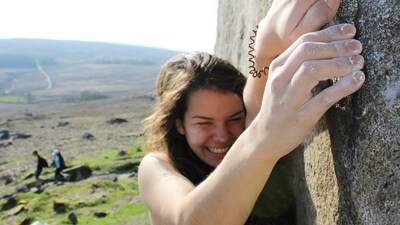 Festival Sustainability Events Coordinator
Emily was drawn to Sheffield from Germany in 2017 for university and, more crucially, for the Peak District. When she's not studying bird eggs, Emily spends her time exploring the Peak while out climbing, swimming and (very) occasionally running. Former secretary of People & Planet Sheffield, Emily hopes to find a place in the world of wildlife conservation and endangered species restoration to combine her two loves of science and adventure. On rainy days, she's an undercover compulsive knitter and plant mum but nothing feels more like home to her than an evening trad climb at Stanage surrounded by wonderful friends.
---
Hannah Griffith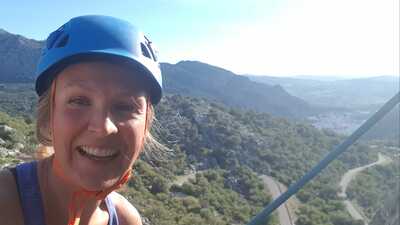 Volunteer Coordinator
Skydiver, trail runner, climber and full time van-life adventurer. Hannah has spent the last 7 months travelling in Europe pursuing her passions and enjoying spending as much time as possible in the outdoors. This will be Hannah's second year with ShaFF and she is very much looking forward to working with the awesome volunteers that help make it possible.