Film
Wake Crane
Dominik Gührs, Felix Georgii and Dominik Hernler celebrate a world first in water sports, as they're being towed by a floating port crane through a 360° container setup that they designed and built themselves.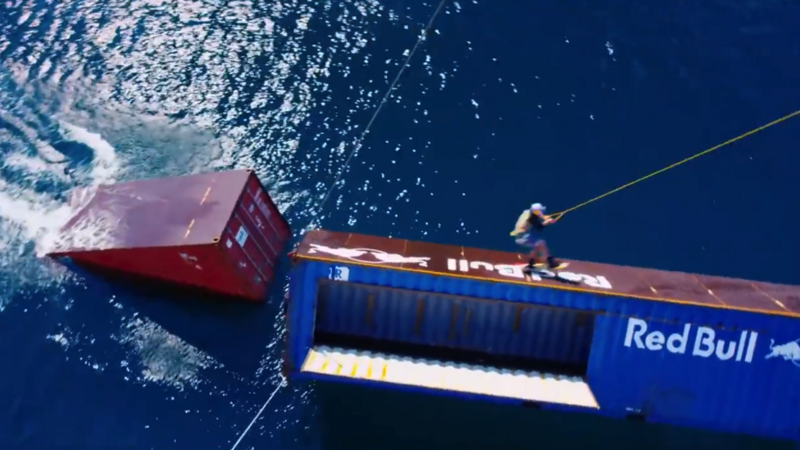 About
Country / Nationality
Germany
Tags
Our Judges say:
Pretty badass I wish I came up with the idea.

Ed Birch Director of Salt-Street productions
It all started with a YouTube video, in which an excavator quite harshly drags a water skier across a lake. Based on that self-experiment Dominik Gührs, Felix Georgii and Dominik Hernler thought up an unprecedented wakeboard project with the goal of riding a 360° obstacle course made up of shipping containers while being dragged by a port crane instead of a regular cable: "Finding the right crane was like searching for a needle in a haystack. For a long time it seemed like this needle wasn't even existing," Felix Georgii remembers. "After searching the ports of Hamburg, Rotterdam and Istanbul, we finally hit the jackpot in Pula, Croatia." At the Uljanik Pula Wharf, founded in 1856, a crew of skilled workers started with the complex assembly of the floating playground: The crane, type Link Belt LS- 108C was heaved onto one of the platforms and welded on to it, so the crane would not tip over while turning. The seven shipping containers were transformed into unique obstacles and kickers by the three wakeboard-pros and a few supporters. "Watching the park come together and doing some hands-on work myself was a great experience," enthuses Dominik Gührs, who was on-site from the first until the tenth and final day of construction. Thanks to five industrial divers, the shipping containers, which had been furnished with floating devices, could eventually be positioned and fixed in the water using 28 anchors, each weighing 800 kg. Thus, after another three days of hard work, the world's first container wake park was finally ready to go. After a few trial rounds it quickly became clear that the "Flying Obstacle", a levitating container that was hooked to another crane, got most of the trio's attention, as it offered the biggest fun factor: "A levitating obstacle is definitely a never-been-done in wakeboarding, which is of course why none of us has ever ridden anything like it," says Dominik Hernler: "Therefore the first few runs were a little sketchy, but we pushed each other and soon fell in love with that flying container. I would have loved to shred that park a few days longer!" A container gap, a boat, whose railing was converted into a rail, and a kicker, which was built inside one of the containers, completed the 360° course. "Riding on a crane through a self-made course made up of shipping containers was unreal and übercool," beams Gührs. Within a few months Dominik Gührs, Felix Georgii and Dominik Hernler – in collaboration with Red Bull and with vital support by drone and action cam manufacturer AEE, who backed up the producers of the "Wake Crane" clip, Starelation, with their equipment and know-how – managed to put an idea into action and to create a global novelty in water sports.