Article
Adventure On Demand - ShAFF 2017 Revisited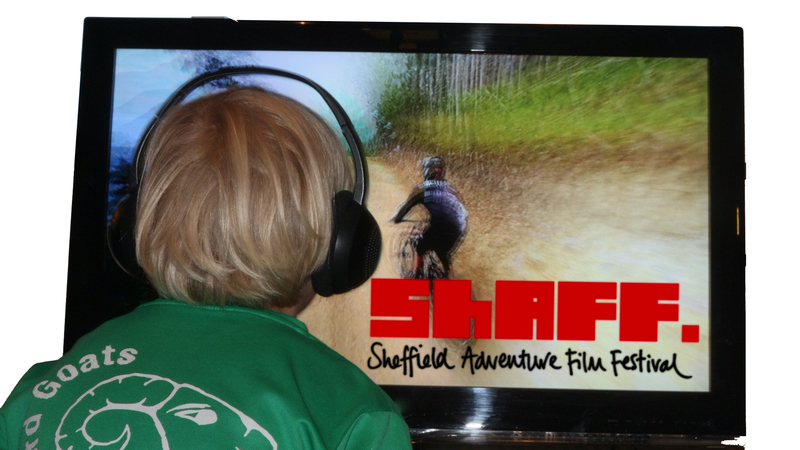 About
We're looking forward to rearranged screenings of our 2020 films (sign up to our newsletter for the latest updates), but until then there's no shortage of online adventure to keep you entertained.
Although we love to get something for nothing, paid-for content will really help support filmmakers at this time. Adventure films are usually made by small independent production companies who are currently unable to work, but the great news is that you can invite adventure into your own home for less than the cost of a coffee and cake, or a couple of pints.
So, alongside our Weekly Watchlists of free online content, the ShAFF team are revisiting the past few festivals and listing the best on-demand adventure films for your indoor inspiration and entertainment. These ones featured in ShAFF 2017:
Backyards Project is about the evolution of a man, Sam Favret. Child of the mountain and more specifically of Chamonix Mont-Blanc, Sam is a rising star of international freeski. He instinctively traverses the mountains, it is his playground, his adventure and he reveals the secrets to us. Surrounded by his friends and good people, Sam generously shares his evolution and his vision of skiing in recent years from freestyle, extreme slope to mountaineering.
Before It Falls The Totem Pole has captured the imagination, blood, sweat and tears of the world's greatest climbers. When their efforts have come and gone the rock, the precarious Totem Pole, is all that endures. Before it Falls was filmed on location on the the Tasman Peninsula, a wild and dramatic outcrop of swell-blasted dolorite columns and cliff tops on Tasmania's east coast. The Tasman Peninsula is an international tourist attraction, with the precarious Totem Pole one of its crown features. Before it Falls is as much a tribute to the geography as it is a story of human endeavour.
Blocheads An all action cinematic spectacular, revelling in the UK's golden age of bouldering. Never before have there been so many indoor walls; so many climbers obsessed with training; so many beasts of superhuman strength. That talent is not going to waste. We follow the fearsomely strong Blocheads as they quest for new lines and push the limits of human ability. It's a story of adventure, rocky passions and mutant fingers. It's the story of a search for bouldering gold.
Doing It Scared British climber – now resident of Tasmania – Paul Pritchard, was one of the leading climbers and mountaineers of the 1980s and 1990s, renowned for his hard and extremely bold first ascents. In 1998 Paul was abseiling in to climb the Totem Pole in Tasmania when he dislodged a rock with his rope that hit him on the head, leaving him with a severe head injury that he was lucky to survive: "All I wanted to do was go to sleep but I was certain that if I did so it would have been the last sleep I ever made." The aftermath of the accident left him with hemiplegia, which means he has little feeling or movement in the right side of this body. Despite this disability, Paul's continued to live a life filled with adventure: "That accident on the Totem Pole was the best thing that ever happened to me." Eighteen years later Paul returns to the Totem Pole to find out if he has recovered enough to finish the climb. 
Fledglings As longtime professional climbers who eat, sleep and live the sport, Cedar Wright and Matt Segal are used to being competent, comfortable and at the top of their game. Then they get into paragliding, and what starts as a toe dip turns quickly into a consuming addiction, as well as a lesson in what it's like to be bumbling, naïve, gung-ho beginners. Tree landings, sketchy moments and junkshow launches become part of the new normal. With only six months of flying under their belts, and professional flier Matt Henzi as a sensei, Wright and Segal embark on an audacious objective: to climb and fly off Orizaba, the third-highest peak in the Americas and the highest in Mexico. What ensues is disaster-style climbing, iffy weather, broken gear and a lesson in jumping into the deep end and being forced to swim.
Freedom Under Load A documentary in which we get to know the oldest generation of the porters in the High Tatras, who climb with supplies to the mountain huts every day. With hundred kilos on their backs they are facing storms, blizzards and deep snow. Their craft is not only a profession, but also their way to the calmness. We discover why they have chosen this way of life and why they remain the last of the Mohicans on the European continent. And maybe we find out something about our own load that we carry.
Metronomic The meeting of the Flying Frenchies stuntmen crew, the Compagnie 9.81 air dancers, musicians from the band Radio Monkey and the Baraka Flims team. Our judges said, "Those madcap musicians are at it again. They could haul a drumkit into space these kids.... You won't stay in your seat."
Mira The journey of a spirited Nepali village girl on her pursuit to being a world-recognised mountain runner. Growing up in a remote mountain village in Nepal, Mira always dreamed of being successful in sport despite all the challenges that she & other Nepali girls face. After running away from home, Mira joined the Maoist army until as a young adult, she travelled the long distance to Kathmandu to try her luck. Out of money, she was about to return home to her village, when by chance on a morning run, she meets another runner who tells her about a long running race in the local hills. She wins it and soon begins to realise her tough mountain village upbringing has prepared her perfectly for this sport.
Mohon In the spring of 2016 19 year old Jimmy Hyland boarded a plane to Mongolia. Having spent his life reading books, watching films and hearing stories of adventure he decided it was time to find his own. Drastically unprepared and armed with little more than a bike he had bought the week before for £50 and a few basic tools Jimmy set off into the steppe, but all did not go to plan. This is the story of Jimmy's first taste of travelling alone in a totally alien land. attling wind, bitter cold temperatures, mechanical problems and solitude which pushed him to his limits, it wasn't until he discovered the incredible Mongolian hospitality that he got back on track.
Mountain Biking: The Untold British Story Mountain biking is now in it's 4th decade and it's come a long way from it's beginnings in the hills of the West Coast USA. But that's only part of the story. The UK MTB scene grew in parallel to the well told US tale and this documentary aims to lay out the complete and unique history of how the MTB developed in British mud. Through archive footage and interviews with legendary names such as Tracy Moseley, Steve Peat, Dan Gee and Rachel Atherton, Martyn Ashton, Rob Warner, Gary Fisher, Jason Miles, Geoff Apps, Carlton Reid and many more, this will be the story of how the Brits carved their names into history and helped shape the global phenomenon that is mountain biking. It is a story that has never been told, until now.
Outside Voices It's time to get to know Jenn Shelton, one of the most outspoken voices in running. Known for her shenanigans featured in the bestselling book Born to Run, Shelton is both a runner and an author in her own right; far more complicated than appears at a casual glance. She makes her home in a small van, owning only what it can carry. She travels around the Mountain West spreading her unique approach to the wilderness. This is an insider's view in black & white. Filmed towards the end of summer in the great American West.
Ruin and Rose An epic creative vision brought to life by the talents of the world's top skiers. Winter landscapes across the planet contrast seamlessly with a thoroughly-crafted story of environmental apocalypse, shot entirely within the otherworldly expanses of Africa's Skeleton Coast. Unlike anything seen before, the dreamlike setting of this film sparks the imagination of not only action sports enthusiasts, but anyone with a beating heart.
The Accord The reality of growing up a surfer in Iceland is different from anywhere else in the world. It's a harsh place. There are no surf shops, guidebooks or webcams. Icelandic surfers are seriously on their own both in and out of the water. But being so far removed from the hustle and bustle of the known surf world hardens Iceland's surfers to confront the issue they all must face: the North Atlantic wind. This wind is like a drunkard 10 minutes before closing time; you never know what the bastard's up to. He can be in the throes of a calm alcohol stupor one minute, fly into a fit of rage the next, and then, in a moment of pure brilliance and drunken unpredictability, the North Atlantic wind can be the most magnificent man in the room.
The Hammer The Hammer follows adventure racer and rookie cyclist, Jason 'The Hammer' Lane, as he attempts to win the hardest endurance race in the world - The Race Across America (RAAM). On day three of the 3,000-mile, cross-country, nonstop cycling race, a fit and confident Hammer was dominating the field. Three hours later, he was hit, run over and dragged by a car. Supported by a rookie crew, in over their heads, and under the pressure cooker of a documentary film, The Hammer must battle against all odds to win The Race Across America.
The Hard Way The inspirational story of Bob Hayes, an 89-year-old trail runner who does things the hard way to maintain purpose, momentum and vitality. Bob Hayes, 89, still runs nearly every day. "I don't need to do things the easy way, I need to do things the hard way because I have the time and it keeps me in shape," Hayes says. When he's not running, he's cutting his own firewood by hand, hauling hay to his cattle or tapping his maple tree for syrup. The Hard Way follows Bob as he trains for the Bighorn 50k ultramarathon. As Bob pushes 90, longer races take a larger toll. How will Bob's cadence of hard work and intention help him navigate the challenges of aging?
Untethered An immensely personal look straight into the heart of the slacklining and highlining community in Vancouver BC. This film is an epic ride from beginning to the end. Offering an inspiring look into a group that pursues the unthinkable. "Your palms will sweat and your heart will race, but you can't help but be ridiculously inspired. The cinematography, story, and pure slacklife style is beautiful." - Andy Lewis
Who Is Dervla Murphy? Dervla Murphy is Ireland's most prolific travel writer who for five decades has travelled the world mostly alone, and mostly by bicycle. A fiercely independent woman who turned her back on societal conventions at a time when few were as brave, she observed and recorded the world with wonder and curiosity, and an astute political sensibility. But who is Dervla Murphy? This special edition documentary explores the woman behind the words in an interview which shows her personal life to be as fascinating as her extensive journeys.
We believe that the best way to watch adventure films is on the big screen, sharing the experience with others who love to adventure outdoors. Sign up to our newsletter for the latest updates and join us when we rearrange our screenings.