Article
Adventure On Demand - ShAFF 2016 Revisited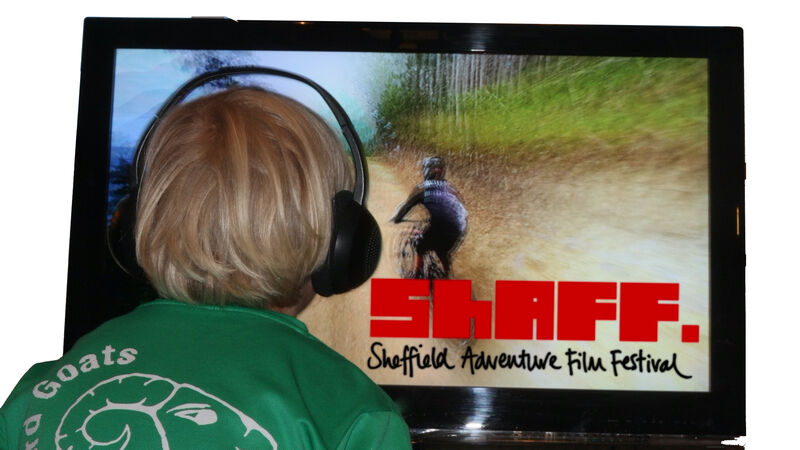 About
We're looking forward to rearranged screenings of our 2020 films (sign up to our newsletter for the latest updates), but until then there's no shortage of online adventure to keep you entertained. 
Although we love to get something for nothing, paid-for content will really help support filmmakers at this time. Adventure films are usually made by small independent production companies who are currently unable to work, but the great news is that you can invite adventure into your own home for less than the cost of a coffee and cake, or a couple of pints.
So, alongside our weekly watchlists of free online content, the ShAFF team are revisiting the past few festivals and listing the best on-demand adventure films for your indoor inspiration and entertainment. These ones featured in ShAFF 2016: 
3022ft Filmed on the dangerous slopes of Mt. Marathon in Seward Alaska, 3022 Ft. gives adventure racing fans a look at the mountain each athlete has to climb before they even get to the starting line. Whether this campaign is the first time you've heard of Mt. Marathon, or whether you're a thirty-five year veteran of the race, this hour long film will give you a view of the race like nothing before.
Citadel Hardcore UK alpinists Matt Helliker and Jon Bracey attempt to climb the stunning NW ridge of the remote peak 'The Citadel' deep in the Neacola range, Alaska. The world's first mountain film shot entirely in 4k, a stunning visual treat reveals alpine climbing like never before. Citadel featured in the Mountain Films session at ShAFF 2016.
Conquering The Useless Pro skier Cody Townsend and his crew face terrifying conditions amongst Canada's biggest glaciers. Intense raw reactions reveal how personal this ski adventure becomes for everyone. Each team member internally struggles with risk vs reward in their ultimate pursuit of the steepest and best line of their lives. Conquering The Useless screened as part of Ski and Board films at ShAFF 2016. 
Flying Dagger January 2012, Jeb Corliss, the world's most recognized wingsuit pilot, miraculously survived a terminal velocity wingsuit accident at Table Mountain, South Africa. For the first time ever, you will get to hear what really happened and witness never-before-seen angles from this tragic accident. Screeneing as part of Spirit of Adventure in ShAFF 2016, our judges said "Big big impact, you will feel this one to your bones. Not one for you if you are squeamish. If not you will love it."
High and Mighty & Showdown at Horseshoe Hell Both these films featured in the Reel Rock 10 tour, and ShAFF's 2016 Climb Films session. From the sublimely serious business of high ball bouldering -- where a fall could lead to serious injury, to the ridiculousness of 24 Hours of Horseshoe Hell. The wildest event in the climbing world; a mash-up of ultramarathon and burning man where elite climbers, including Alex Honnold, and gumbies alike go for broke in a sun up-to-sun up orgy of lactic acid and beer.
Kayaking the Aleutians No-one has succeeded in kayaking the length of the remote and stormy Aleutian Islands which stretch from Russia to Alaska. Explorers Justine Curgenven and Sarah Outen set out to paddle 2,500km along the archipelago, alone for 101 days in one of the windiest, roughest places on earth. The two women are swept away from land by unknown currents, pounded by rough seas and approached by bears, gaining a rare insight into themselves, the rich wildlife and the lives of the few people who live in this harsh yet beautiful landscape.
Meru An earlier film from the team that made Oscar-winning Free Solo, Meru featured in the Mountain Films session in ShAFF 2016. In the high-stakes game of big-wall climbing, the Shark's Fin on Mount Meru may be the ultimate prize. Sitting at the headwaters of the sacred Ganges River in Northern India, the Shark's Fin has seen more failed attempts by elite climbing teams over the past 30 years than any other ascent in the Himalayas.
Operation Moffatt This film scooped up adventure film awards across the board in 2016. Made by and featuring ShAFF chief judge Claire Carter and filmmaker Jen Randall, Operation Moffat takes inspiration and wit from the colourful climbing life of Britain's first female mountain guide, Gwen Moffat. Grappling with her preference for mountains over people, adventure over security, wilderness over tick lists, writer Claire Carter and filmmaker Jen Randall climb, run, scramble and swim their way through some of Gwen's most cherished British landscapes.
Paradise Waits An amazing dose of ski eye-candy! As the days turn into weeks and the weeks roll into months, it's the moments when everything seems to come together in perfect harmony that resonate the loudest. For those who anticipate winter's arrival with frothing mouths and the dreams of what may come, this past year came with an unfamiliar set of struggles as these perfect moments became more and more elusive. But for the TGR team, this only hardened their pursuit of winter's rewards. Through the highs and lows of a curious season, they come to find that the moments found on the other side of adversity are the greatest moments of all.
Sherpa: Trouble on Everest This feature-length documentary was an Oscar nominee, and is considered a must-watch by the ShAFF judges. On April 18, 2014, SHERPA Director Jennifer Peedom captured the massive avalanche that tore through the Khumbu Icefall, killing 16 Sherpas. The 14 million ton avalanche is recognized as the worst tragedy in the history of Everest, and sparked a drastic reassessment of the role of Sherpas in the Everest climbing industry. The film captures the story of the Sherpa community, united in grief and anger, as they reclaim the respected mountain they call Chomolungma.
Unbranded This film was featured in the Best of ShAFF 2016, and is considered an adventure classic. The film follows four young would-be cowboys as they travel with sixteen wild horses from the Mexican to Canadian borders.
We believe that the best way to watch adventure films is on the big screen, sharing the experience with others who love to adventure outdoors. Sign up to our newsletter for the latest updates and join us when we rearrange our screenings.