Article
Tickets On Sale for ShAFF 2020!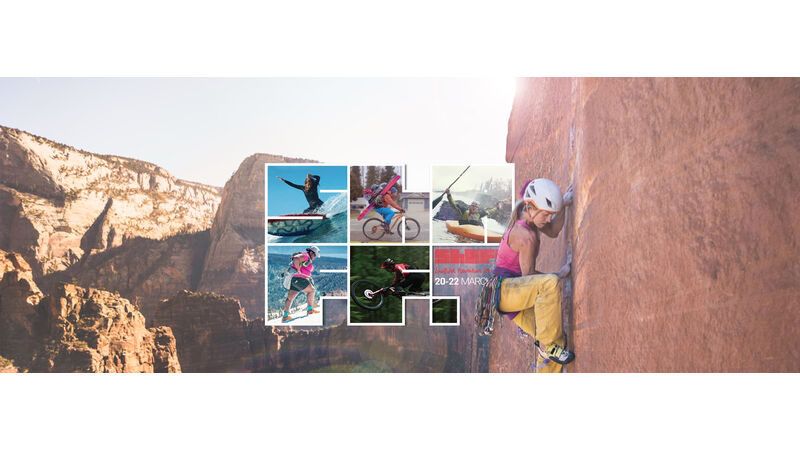 About
ShAFF is calling on people who love the outdoors to seek out acts of adventurous rebellion as it reveals an exciting new theme and launches ticket sales for this year's festival, which takes place at the Showroom Cinema from 20-22 March.
Now entering its 15th year, ShAFF is the largest urban adventure film festival in the UK, and the only one in a city with a national park within its limits. This amazing setting inspires us to put on an event that brings people together to celebrate outdoor life and the adventures it offers. Presented in association with the BMC, ShAFF happens in March every year when we're all coming out of hibernation and waking up to the exciting possibilities of the year ahead. We want to seize this moment to invigorate and inspire you with the best new adventure films from around the world, showing off everything the outdoors has to offer.
ACTS OF REBELLION
As adventurers, we push the limits, challenge the norm and redefine the meaning of brave. This year, ShAFF wants to inspire you to find the rebel in yourself, to think outside the box, and to come together with your tribe to re-shape the world for the better. For the love of the land that feeds our adventures, and for the love of the people we adventure with. How will you use your adventurous skills and spirit - and what will your act of rebellion be?
OUR PLEDGE TO THE PLANET IN 2020 - AND BEYOND
We're all facing a changing world - and here at ShAFF we're genuinely and humbly trying to do our very best in a climate that demands that we challenge ourselves and our preconceptions to the max. In 2020 we are introducing an ethical film stamp, showcasing what the film industry can do to protect and enhance the landscapes they portray, sourcing local, supporting sustainable consumer choices, promoting a repair culture, and taking hands-on action through a Rebel Raids event series. Read the ShAFF Mission Statement in full.
BRINGING THE OUTDOOR CITY TOGETHER
ShAFF is a headline event of the Outdoor City Festival of the Outdoors, a month-long celebration of everything the outdoors has to offer. From running to cycling, hiking to the Festival aims to get people involved, trying out and experiencing as many different aspects of the outdoors as possible. Whatever your adventures during the festival, everyone is invited to come together for a celebratory drink at the free Saturday night party in the Showroom bar on 21 March.
Festival Director Matt Heason says: "I believe that if we love the wild places we adventure in, we also have a duty to protect them. Adventurers often push the limits and challenge the norm, and this year we want ShAFF to inspire everyone to use their adventurous skills and spirit to come together to shape the world for the better. That's why we're asking you what your act of rebellion will be."
Alex Messenger, Head of Communications at the BMC, says: "ShAFF is a perfect fit with our core values of adventure, community and sustainability, and we look forward to making 2020 the best year yet. As well as films, adventure and a great party, we'll be using the festival to launch the BMC Climate Project: an innovative way that you can make a difference to both our local landscapes and the global climate fight. Plus, all BMC members can get 15% off tickets."
GO BEYOND THE FILMS WITH FREE FESTIVAL EXPERIENCES
ShAFF is as much about the adventure as it is about the films. As well as inspirational screenings we have a whole weekend of experiences lined up to inspire you to get together with your tribe, think about your next challenge and maybe even make the world a better place along the way. Hear from adventurers who chose the path less travelled with our Adventure Unboxed events, kit yourself out at our Second Life and Preloved Gear Sale or get hands on with our skills sessions and Rebel Raids. Check out the events on offer, including action-packed itineraries for your tribe, whether you're a runner, cyclist, or family adventurer. And for those who just want to tread with a lighter footprint, we have lots of practical tips for a more sustainable adventure lifestyle at the ShAFF Repair Cafe and in our exhibitions from ShAFF partners in the Outpost. With our programme of guided runs and bike rides, you'll also have loads of opportunities to put all the inspiration from our amazing film sessions into practice.
Tickets are on sale through the Showroom Cinema website, with ticket links for each session and event available via the full ShAFF 2020 programme at the ShAFF website. Can't wait or want a taste of what to expect? Join us for our early preview of the Best of ShAFF 2020 at Regather on 12 March or Cycle to the Cinema on 18 March.