Article
FREE Talks, Activities & Exhibits At The Outpost
FREE Talks, Activities & Exhibits At The Outpost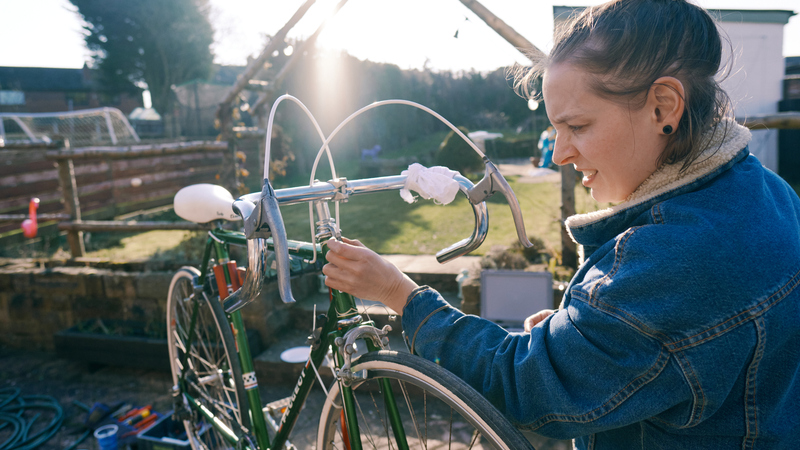 About
LOWER YOUR ADVENTURE FOOTPRINT WITH FREE FESTIVAL EXPERIENCES
Alongside film sessions over ShAFF weekend, learn to lower your adventure footprint at The Outpost with a series of free festival exhibits, activities and talks focused on steps we can all take towards more sustainable adventuring. In our packed programme of free talks, find out how to make your outdoor kit last longer with Sheffield Clothing Repair explore sustainable travel options for your adventures with Sophie Whyte, and hear from authors Alex Roddie and Paul Besley about their adventures on foot.  
As well as the talks, explore the potential of e-bikes with local mountain bike producer Cotic who will be bringing along their exciting new e-MTB prototype. A Different Gear will also have their electric cargo bikes on hand. The Outpost will also feature a series of artwork using recycled and reclaimed materials, and climbing and mountain biking photography exhibitions. And, if your old gear really can't be revived, drop it off for upcycling with Re-Run Clothing, the John Muir Trust, Scavenger and Rab.
Fri 18-Sun 20 Art & Photo Exhibitions In The Outpost and Showroom Lightwell 
Sat 19 March 11am What we do on the limestone – the female perspective in climbing photography with Marsha Balaeva
Sat 19 March 12pm BMC Presents United We Climb
Sat 19 March 2pm A Repairable Future with Becky Kirby of Sheffield Clothing Repair
Sat 19 March 3pm Sustainable travel and an adventurous lifestyle with Sophie Whyte
Sat 19 March 4pm BMC Montane Women in Adventure Panel
Sat 19 March 4pm Iditarod Invitational Trail with Andy Heading 
Sat 19 March 8pm The BMC's Climate Networking event
Sat 19 MArch 9pm SMASH The Festival Party at The Showroom bar
Sun 20 Mar 10am Give Orienteering A Go with the South Yorkshire Orienteers
Sun 20 Mar 10:30am Focus: Filmmaking presentations and networking event
Sun 20 Mar 10:30am Genevieve Carver - She Tells Sea Shells
Sun 20 March 11am Walking Is Easy…isn't it? With Paul Besley author of 1001 walking Tips
Sun 20 Mar 12pm The Farthest Shore: hiking the Cape Wrath Trail in winter with author Alex Roddie
Sun 20 Mar 1pm How hard, how far, how often? Training for fell and trail running with Dave Taylor, Fell Running Guide
Sun 20 Mar 2pm Climate solutions and eco-adventure with Isaac and Alex from Pedal 4 Parks
Sun 20 Mar 3pm The two-volcano sprint bikepacking race from Etna to Vesuvius with ultra-racer Nicky Shaw
So we can manage numbers, please register for free events via our Eventbrite page.
Located in the Workstation next door to the Showroom Cinema, The Outpost will be open to members of the public from 10am-6pm on Saturday 19 and 10am-5pm on Sunday 20 March.