2017 Winners
2017 Film Competition Winners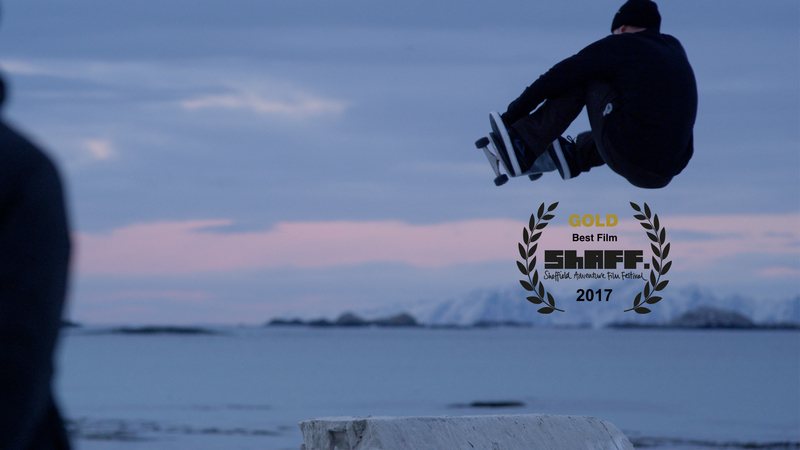 About
WINNERS ANNOUNCED OF THE 2017 SHEFFIELD ADVENTURE FILM FESTIVAL AWARDS
Ahead of this weekend's festival, the winners of 2017 Sheffield Adventure Film Festival Awards have today been revealed.
A selection of the winning films will be shown at a dedicated 'Best of ShAFF 2017' screening on Thursday 16th March, 7.30pm at Sheffield community co-op Regather, and on Sunday from 8.30pm at The Showroom Cinema. There is also a 'Best of ShAFF Music' session on Saturday afternoon.
With over 100 of the best adventure, extreme sports and travel films carefully selected from entries submitted from every corner of the globe, the 11 individual categories of the ShAFF 2017 Awards distinguish achievements in all aspects of filmmaking. From format and music to artistry and unique to ShAFF, the 'Spirit of Adventure Award', celebrating those films that best capture the core adventure theme of the festival.
The 'Made in Sheffield' award was created to support and nurture local talent and is judged on the basis of films that best showcase the city, whether that is through location, music, production or featured athletes. This year's winner is the Bothy Project, a film exploring what happens when you send four artists to a remote Scottish bothy to try and untangle their need for outdoor space. Made by Jen Randall, Sheffield based filmmaker Nick Brown, James France and writer/producer Claire Jane Carter.
The award for Women in Adventure has been judged by the Director of Derbyshire Sport, Hayley Lever. She described this year's category as 'particularly strong, with a real diversity of films across all sports from running to mountain biking and range of themes from those surmounting personal challenges to more poetic and artistic interpretations.'
A special mention was given by the ShAFF judges to films When we were Knights and Untethered.
The full list of 2017 ShAFF award winners are below and online. For press enquiries please contact jenny@bandofbirds.co.uk 07779281114.
Quotes from filmmakers:
Joel Wolport, Director of Outside Voices says:
"Outside Voices is a malenky bit of the old ultraviolence with Jenn Shelton. Thanks to ShAFF for enjoying our story."
Emma Crome, Coldhouse Collective producer of Devotion: Libby Peters says:
"It was an absolute privilege to work with Libby, Ruby and Zoe. It's a tricky thing to manage, asking for insight into someone's life and translating it onto the screen. We feel Devotion presents a poetic interpretation of Libby's quiet drive and determination to live the climbing life she loves, and with her family at the centre of this. Big thanks to Libby for letting us in and her patience, and thanks Shaff for the award, very chuffed!"
Dom Bush, Land and Sky Media, Director of Tom Siepp - A Mountain Short says:
'So happy to win this award. I have focused on making climbing films for a long time so to move away from that and be recognized feels really great. All films are a collaboration so I owe a lot to the Seipp family of course, and especially to Tom. What a star!'
BEST FILM – GRAND PRIZE - Northbound
Silver - The Accord
Bronze - Dodo's Delight
BEST ARTISTIC FILM (GOLD) - What If You Fly
Silver - The Accord
Bronze - Ruin and Rose
BEST BIKING FILM (GOLD) - Tom Siepp - A Mountain Journal Short
Silver - Danny MacAskill's Wee Day Out
Bronze - Dreamride
UIAA BEST CLIMBING FILM (GOLD) - Dodo's Delight
Silver - Jurek
Bronze - Down to Nothing
BEST FILM MADE IN SHEFFIELD (GOLD) - The Bothy Project
Silver - Devotion: Libby Peters
Bronze - Low Line
BEST RUNNING FILM (GOLD) - Run Forever
Silver - Outside Voices
Bronze - Cape Wrath Ultra
BEST SHORT FILM (GOLD) - Max Your Days
Silver - The Man and the Sea
Bronze - Last call for Mr Paul
BEST SKI & BOARD FILM (GOLD) - Iran: A Skier's Journey
Silver - The Grand Siberian Traverse
Bronze - China: A Skier's Journey
BEST SOUNDTRACK (GOLD) - Northbound
Silver - Metronomic
Bronze - Great Siberian Traverse
BEST SPIRIT OF ADVENTURE FILM (GOLD) - North of Unknown
Silver - Mohon
Bronze - Locked In
BEST WOMEN IN ADVENTURE FILM (GOLD) - Afterglow
Silver - The Bothy Project
Bronze - Silvana Lima - BBC Winners